Owning a AR 15 for hunting, plinking, self-defense, and competition shooting has become quite common. No matter how you use your AR 15, the tendency to keep shooting is going to happen. AR 15's can be a lot of fun to shoot. Leaving you with the requirement to clean your rifle so that you can shoot again. However, AR 15's are a little different than your typical rifles, handguns, and shotguns. Carbon tends to build up in the bolt carrier group, especially if you use inexpensive ammo. Therefore, The Guns Cleaner has compiled the best AR cleaning tool from the leading manufacturers so that you select the best AR cleaning tool for your gun and budget.
Most of the AR specific cleaning tools aren't included in an AR cleaning kit because the tool is designed specifically for cleaning the bolt carrier group and not the entire gun. Therefore, the cleaning tools usually have to be purchased with an AR cleaning kit. If you are looking for an AR specific cleaning kit look here, for the best ones.
Real Avid MSR Scraper – Best Carbon Removal Tool –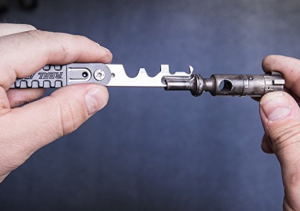 Real Avid is no small player when it comes to rifle cleaning kits and tools. They have been able to design some of the most ergonomic cleaning and maintenance tools on the market. They offer upwards of over a dozen AR 10 and AR 15 specific products to help improve firearm cleaning. The MSR Scrapper the best AR cleaning tool they offer. It looks very simple and almost too small, but this carbon removal tool is perfect for cleaning over 12 critical surfaces on your AR bolt carrier group.
The MSR scraper is machined with separate groves, cuts, and edges to cleaning the following surfaces. The tool can scrape, the firing pin, bolt cam pin, bolt waist, inside of the bolt tail and bolt tail shoulder, between lugs, behind cartridge extractor, and bolt face. Overall this tool can clean four major parts of the bolt carrier group faster and more effective than brushes and solvents. Real Avid not only created this carbon removal tool for the .223/5.56 bolt carrier group but for the .308/7.62 bolt carrier group owners as well. Simply just select the scrapper that fits your rifle bolt caliber.
This scraper is one of our favorites as it is very inexpensive and a great addition to any cleaning kit you can buy for your AR rifle.
CAT M4 Tool – Bolt Cleaning Tool –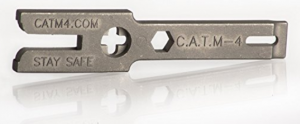 Combat Application Tools better are known as CAT, and they make one of the best bolt cleaning tools. If you own a sporting rifle that tends to build up with carbon after shooting multiple rounds through it. The CAT M4 tool can help remove the build-up with ease. CAT doesn't make too many tools, but they have made the right ones. The M4 is a solid piece of stainless steel with no moving parts. Making this tool easy to fit in your gun case, gun cleaning box, or even pocket. The M4 is built to last after numerous cleaning sessions and we really like how its one solid piece, nothing could possibly go wrong or even break on this tool.
With the unique patented design, the M4 can clean any carbon built up on the bolt, carrier, and firing pin flange. When you look at the AR cleaning tool it looks almost like a tuning fork, and each of the holes or edges are designed to work on any AR 15 bolt carrier group. The one drawback of this particular tool is the cost, it ranges on the higher end side. However, to get the best AR cleaning tool sometimes you need to spend a little extra.
Kley-Zion Bolt Carbon Scraper – AR Tool –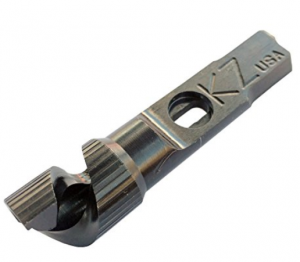 Kley-Zion makes a series of metal AR accessories and attachments. Which is actually a sister company to Botach, who makes tactical gear for law enforcement, military, and home defense. We had to include their AR tool to our list as they had created a unique corkscrew design that allowed us to clean and remove carbon a little easier than some of the other designs. The bolt scraper is manufactured from one solid bar stock of steel.
The Kley-Zion AR tool allows you to clean the bolt tail, firing pin, and bolt carrier. Making it an easy tool to keep in your cleaning kit. The bolt scraper was super easy to use and because it's a solid piece of bar stock it essential has no parts that can break or fall off similar to the CAT M4. The M4 does cost a little more than some of the other AR tool's. However, if you are looking for a unique design and tool that can remove carbon from your AR bolt carrier group this is perfect.
Otis BONE Tool – Bolt Carrier Cleaning Tool –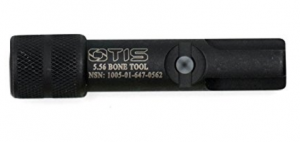 We have mentioned and reviewed multiple Otis branded cleaning kits with much success. Their cleaning kits are made in the USA with only high-quality materials. Otis sure extended that mission on to their bolt carrier cleaning tool The BONE. The tool is designed to clean any .223/5.56mm bolt carrier group. Essentially cleaning the three major parts: bolt carrier, firing pin, and bolt. What drew us to the Otis BONE tool was the size, it's a small hand held cleaning tool that is very easy to store and pack in any universal cleaning kit.
The no-nonsense warranty policy was one of the greatest reasons as to why we chose the Otis BONE Tool as the best AR cleaning tool. Therefore, if your cleaning tool or any Otis product for that matter is damaged they issue you a replacement no questions asked. You really can't beat a family-owned company that takes care of their customers.
Real Avid Carbon Boss – AR Multi Tool –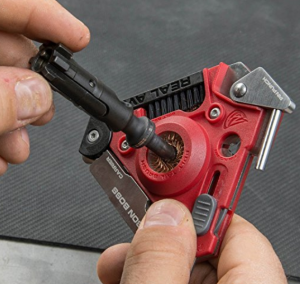 If the Real Avid MSR scraper is the essential carbon bolt carrier removal tool. Then the Real Avid Carbon Boss is the sister tool that is on steroids. The carbon boss is packed from end to end with every possible tool needed to clean your .223/5.56 bolt carrier group and then some. For starters, the triangular AR tool comes with its own carrying pouch making sure that it doesn't get damaged if dropped or left outside. The Carbon Boss is designed like a swiss army knife packing multiple scrapers, brushes, pin punches, and brushes all fitting compactly to a triangular composite core.
If we compare the Carbon boss to the MSR scraper, the carbon boss has an additional 4 tools making it a 16-in-1 AR multi tool. Essentially you can clean all major parts of the bolt carrier group without scratching or marring. The features that really stand out on the carbon boss is the 360° phosphor bronze bolt tail brush and nylon bolt brush attachment that the MSR scraper doesn't have. The Carbon Brush also has a cotter pin puller, rotating pin punch, and every scraper you can think of for cleaning your bolt carrier group.
Even though this AR multi tool seems like it would cost a fortune for what is all included, thankfully it's quite affordable. However, with so many moving parts and attachments we were a little worried that it adds to what can go wrong or break on this AR cleaning tool. However, we never did have anything break on it making it the best AR cleaning tool from Real Avid's Carbon Boss cleaning product line.
Gerber eFECT II – AR Multi Tool –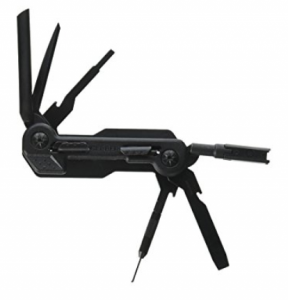 Gerber Blades is easily a recognizable company when it comes to knives and multi tools. So with their long history of knowing how to make multi tools, Gerber decided to invest in making a AR multi tool designed to help maintain and clean the AR 15 / M4 / M16 rifle platforms. The eFFECT tool features Gerbers quality multi tool design. It's compact and offers 6 tools including the M249 carbon scraper. It also features a detachable style carbon pick for M4 and M16 models.
The Gerber AR Mult Tool effectively cleans the inside of the bolt carrier, bolt, and ejector end of the bolt. It also includes a flat head style driver for optics or accessories. Plus it includes a pin punch for removing the takedown pin or adjusting any sights. Also included with the Gerber AR multi tool is a carrying sheath that fits the collapsed tool. The only drawback is that it does have a higher price point. However, it does offer a quality design made by a legacy company. Therefore, the cost can be understood, plus it offers a wide range of firearms.
Real Avid Micro Tool – Bolt Cleaning Tool –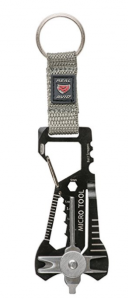 Real Avid like we said makes one of the largest product lines for the AR platform when it comes to tools, cleaning mats, and AR cleaning kits.  So we had to add Real Avid's Micro Tool is a solid simple bolt cleaning tool that is perfect for adding to your keychain. It's compact measuring less than a few inches and nearly the width of a few credit cards stacked up. However, it offers so much for its small size. It provides scrapers for the firing pin, bolt tail, and bolt face. In addition to the cleaning tools, the Micro Tool offers a pin punch, sight adjuster, flat head screwdriver, ruler, wrenches, and cutter. Plus we almost forgot it even offers a bottle opener.
The Micro Bolt Cleaning Tool is perfect for adding to your keys, you never know when you may need it out at the range. However, I wouldn't go as far as to use this for a deep clean. The Real Avid MSR or Carbon Boss are a lot more durable.  The micro tool is an awesome small addition to anyone's AR field fit. We even put in on our gun case zipper, this way you'll never lose it and it came in handy a couple times when we forgot our field cleaning box.
Otis Star Chamber Cleaning Tool – AR-15 .223/5.56 –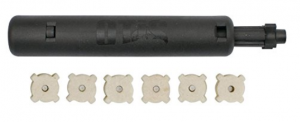 In addition to the multiple bolt carrier cleaning tools and scrapers, we needed to include Otis' chamber cleaning tool. It's quite specific when it comes to buying a tool designed especially for one function. However, we found that the Star Chamber Cleaning tool was really effective and perfect for cleaning out any MSR or AR chamber. The tool is fitted with an 8-32 threaded end that allows you to attach brushes, scrapers, and cleaning tools to it while cleaning. Otis also offers star felt pads that can be used after you scrape out the chamber cleaning up any fouling and carbon loosened while cleaning.
The Chamber tool is made to extend making it easy to clean the entire bolt chamber. In addition to it extending it also collapses making it easy to store or even throw in your pocket.  The cleaning tool is a great addition to anyone's cleaning kit, it may not be essential. However, once we used it we realized how easy it made cleaning out the chamber. We also liked that they offered the Star Chamber Cleaning Tool for the AR-10 platform as well. AR-10 owners can find the cleaning tool here.
Why Use an AR Cleaning Tool –
AR cleaning tools make cleaning and scraping any carbon build up much easier than what any universal cleaning kit can offer. If AR owners don't use the proper tools for removing carbon, it can begin to build up and cause misfires and damage to your AR rifle. Therefore, by investing in proper bolt carrier cleaning tools you'll be sure to preserve your AR platform.