In most of the universal and caliber specific gun cleaning kits, we have reviewed so far, very few if any have a decent carrying box included. Most cleaning kits don't offer the necessary space for your gun cleaning mat, solvents, and tools.  Therefore, at Guns Cleaner we wanted to showcase our favorite gun cleaning box's that we could find to help you select the best gun cleaning box for your equipment.
Of course, a simple storage bin can easily do the trick, and quite honestly I used one for many years. Mostly because I had no idea that they made gun specific cleaning boxes. I was soon disappointed I hadn't bought one earlier because as you soon will read, they have some amazing features that will be sure to keep your cleaning supplies organized.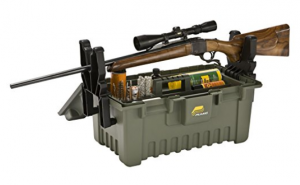 In 1952 Warren "Pete" Henning came back from a saltwater fishing trip and set out to redesign the tackle box into a lightweight rust-free box. For nearly 40 years Pete and Plano worked on refining the tackle box before they launched their hunting and shooting products in 1995. Nowadays they make everything from gun cases to ammo storage boxes and gun cleaning boxes.
Plano's shooter case is designed to provide storage and a carrying case for all of your gun cleaning supplies. When you first pick up the hunter green colored carrying case you'll notice a durable plastic composite outer shell. The shell is durable and when sliding into a truck or packed on a shelf the case won't flex or crush. Also attached to the outside of the shooters box is a black carrying handle that folds down when not in use.
Box Design –
I became even more impressed when I opened the box up for the first time.  I noticed it had a yoke system for holding a firearm. The picture does it better justice, but if you are planning on taking your rifle or gun to the range this is a great spot to hold it when not in use. Plus it can even make for a traveling gun vise. Of course, if you are looking for an at-home maintenance vise check out our gun vises here. Aside from the yoke system, is a removable tray that sits at the top of the shooters box. This allows you to organize and store your solvents, patches, and even cleaning tips. Underneath the tray, you'll find robust storage space for gun cleaning mats, tools, and extra solvents and oils.
Field Notes –
22″ L x 14.5″ W x 11.5″ H
Color Available – Green
Lifetime Warranty Against Defects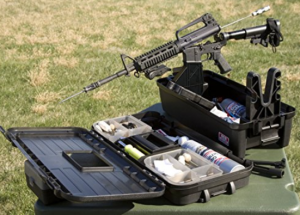 MTM Molded Products Company is a family owned and operated company since 1968. They strive to innovate and make the sport of range shooting and hunting easier and more fun. They are a proud member of giving back a portion of their earnings to support Hunting & Shooting Sports Heritage Foundation. Ever since they started 50 years ago, MTM has been developing top of the line ammo crates, cases, handgun cases and even reloading products to name a few. I estimate they make about 200+ products.
If you own an AR or tactical rifle you have to check this range box out. This has to be the best gun cleaning box for AR owners. Right off the bat, MTM has designed a box that comes with an AR 223 magazine sized slot that allows you to prop your firearm in. This by far is a superior innovation we didn't find anywhere else. The magazine holder allows you to break open your AR and inspect the bolt chamber for cleaning or maintenance. We never had any issue with the box tipping over with our firearms in the holder. And upon further inspection of opening this case, MTM even includes a yoke system for propping any firearm up as well. MTM made the yokes with rubber non-slip padding to protect your firearms when working on them.
Box Design –
On top of the great cleaning station, they provide a two-piece carrying case design that has a pull out tray similar to Plano's. The tray offers space for jags, brushed, patches and solvents keeping them organized and easy to access. The entire top tray has a total of 18 compartments. We even had organized space for our small replacement parts. Plus when taking down our rifles it made a nice spot for pins and parts.
Field Notes –
24.6″ L x 11.3″ W x 8.3″ H
5 year warranty on MTM Case-Gard products
10 year warranty on Hinged Products
Color Available- Black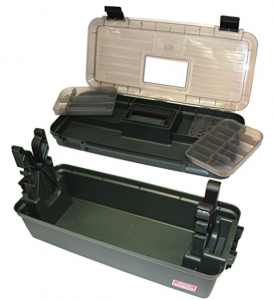 Of course, if you own an AR the MTM Tactical Box is going to be your best option. However, the tactical box can be used for any model. MTM has designed a universal gun cleaning and range box, that offers similar attributes as their Tactical box. When you look at the outside of MTM's box, you'll notice a hard plastic shell and a foldable carrying handle. As soon as you release the lid locks you'll notice that the top third of the box lifts off the base and doubles as an organizer for your gun cleaning kit. The top organizer has 18 different compartments that allow you to store solvents, patches, jags, picks, and cleaning rods. Underneath the tray, you'll find additional space that can be used for range gear. Maybe throw some ammo or earplugs and glasses in there as well. I even toss my gun cleaning mat in the bottom.
Similar to the Tactical box, MTM offers a yoke system to set your rifle or firearm that can double as a gun rest for quick maintenance or gun cleaning. The yoke system fits into the lower half of the carrying box and each yoke is lined with a soft rubber grip to hold and protect your gun. This box is a great cleaning storage box to own. Guns Cleaner enjoyed how it was perfect for storing our cleaning supplies, but yet we could bring the box out to the range and have all of our tools accessible and still carry our ammo and shooting gear.
Field Notes –
25″ L x 11.5″ W x 8.75″ H
5 year warranty on MTM Case-Gard products
10 year warranty on Hinged Products
Color Available- Forest Green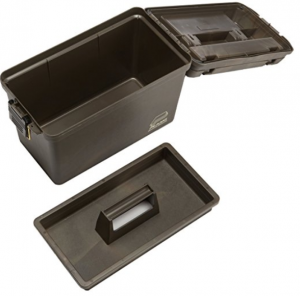 Our first three choices are dual purpose gun cleaning boxes and shooting range boxes. So we had to add one box to our Best Gun Cleaning Box list that is simple and serves the purpose of just carrying your cleaning supplies. That's exactly what Plano's field box does. However, even though it doesn't offer a yoke system or fancy gun holder it still provides a ton of space to organize your cleaning kits at the lowest cost. So, if you think maybe a storage bin is all I need, consider looking for Plano's field box as your gun cleaning box. It offers a removable tray for cleaning rods, patches, and solvents, still leaving you with ample storage space below the tray.
One thing that really sets this apart from other boxes and storage bins is that it has storage space n the lid. The compartments are perfect for small jags and brushes included in universal cleaning kits. Plus, the Plano box even offers a water-resistant seal. That way moisture is prevented from getting inside the box. I actually even dual purpose my box for when I hunt because it's perfect for the essentials like ammo and hunting gear. So, if you ever upgrade and get a different cleaning box you can simply use this box for hunting some day down the road.
Field Notes –
15″ L x 8″ W x 10″ H
Color Available – Green
Lifetime Warranty Against Defects




What To Look For In The Best Gun Cleaning Box –
To make sure you select the best gun cleaning box we wanted to offer up some tips and thoughts before you purchase. Therefore, you won't have to return or regret purchasing a gun cleaning box in the future.
Size –
When considering purchasing a cleaning kit box, be sure to know what you are all going to store inside of it. I know when I first started using a cleaning kit I had a small Hoppe's Universal cleaning kit and that was about it. However, at that time I only had one firearm to clean so it served it's purpose well. However, as soon as I started getting into shooting and hunting more, I also purchased more firearms. Therefore, I started to accumulate more cleaning supplies when I found out how important it was to keep your guns cleaned and oiled properly. Soon, I had cleaning mats, solvents, oils, different size jags and nothing fit into my original gun cleaning box. This is when I set out to purchase the best gun cleaning box, and I made sure to measure my gun cleaning mat and cleaning rods to ensure they would fit into the gun cleaning boxes I was selecting.
Storage –
All of the boxes on our list above have more than enough storage for cleaning kits, tools, and solvents. However, if you are planning on using your cleaning box as a range box as well, which at times can be a smart decision in the event you need to clean your gun on the range, be sure to check and see if you can store ammo, earplugs and shooting supplies when you purchase the box. Making sure there are spots to organize your tools and equipment is important as well. I found out the hard way when you start dumping everything into a storage bin, it makes it quite hard to find anything versus having storage trays like these gun cleaning boxes.
Value –
Most gun cleaning boxes are pretty affordable or at best can dual purpose as a range box, gun rest and cleaning box. So, when you do purchase your gun cleaning box be sure you invest in a quality one that can last for quite a few years.