Anyone that has ever cleaned a gun using gun solvents before knows how messy things can get. Using an old towel in place of a gun cleaning mat can work, but it ruins the towel & holds the solvent. The next time you use the towel the solvent will be all over everything. To solve this issue, we've decided to go out in search of the best gun cleaning mats.
Characteristics Of A Good Gun Cleaning Mat
The best gun cleaning mats have some distinct characteristics. They should be made with a non-absorbent, leak-proof material. This prevents CLPs & other oils from leaking through your mat onto your table. It also means that you can easily wipe away grease, leaving you a clean gun cleaning mat for your next use.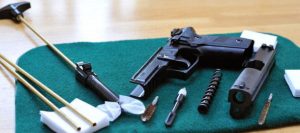 The last thing you want is to store an oil-soaked mat in your gun cleaning box. The solvents end up leaking off the mat and get everything oily, making for a dirty gun cleaning kit.
That's the biggest reason why gun cleaning mats are designed using special materials. When your gun cleaning solvent touches a gun mat it's engineered to not seep into the material. Instead, it will just lay on the surface, giving you an easy opportunity to clean it up.
Another important characteristic of a cleaning mat is that it is designed to be big enough for the firearm you are working on. You should be able to lay out all the components of your gun on the mat, rather than on the table.
So make sure you know what you are looking for. Think about whether you need a gun cleaning mat for a pistol or a mat for a deer hunting rifle. This will influence what exactly you're going to buy.
All gun cleaning mats are NOT created equally!
Like any other industry, there are some top gun cleaning mats & some that are complete duds. Our goal is to take a look at some of the best gun cleaning mats in the industry & help you make a good buying decision.
Some of the mats we took a look at had a ton of complaints about how easily they collected dust, dirt, lint, etc. Others ended up having little to no complaints. We'll cover what the best ones were, and more importantly why they so highly rated.
Real Avid Smart Mat – 
Best Universal Gun Cleaning Mats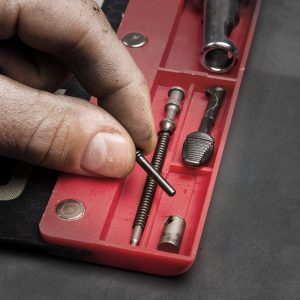 The Real Avid Smart mat is a nice gun cleaning mat that utilizes a non-absorbent neoprene material. It's a pretty nice mat, and is manufactured in two different sizes – one for rifles and/or shotguns & one for pistols.
With well over 100 reviews (many of which are 5 stars), the Real Avid Smart gun cleaning mat is definitely a favorite among gun enthusiasts. It even includes a magnetic parts retention strip. This ensures that your parts don't roll away on you, and that everything is right where you left it. Real Avid Smart's gun cleaning mat is the only brand we could find that offered this option.
The back of the mat is also a non-slip material that doesn't slide around on your table. Anyone that has cleaned a gun on a smooth surface before will recognize this as a nice feature.
Notes From the Field:
Size: 19″ x 16″ or 43″ x 16″
Firearm Type: Pistol / Rifle / Shotgun
Material: Non-absorbent neoprene base with magnetic compartment
The Final Verdict:
This is definitely one of the most popular gun cleaning mats on the market. It's well made & we absolutely love the idea of the built-in magnetic strip for keeping track of all our springs & parts.
While we still consider the Sage & Braker model the best gun cleaning mat on the market, it is a safe thing to say that this is the best gun cleaning mat for the money!
TekMat AR-15 Cleaning Mat –

Best AR 15 Cleaning Mat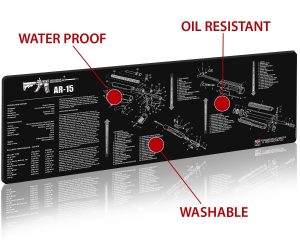 TekMat is one of the powerhouses in the gun cleaning mat industry, boasting over 700 reviews positive reviews on this model alone. They offer a ton of different graphic designs, with most being geared toward AR 15 cleaning mats.
The soft polyester top of this model will ensure your gun doesn't get scratched, while the neoprene rubber backing on the mat will keep everything in place and prevent your work surface from sliding around.
This mat will also keep harmful chemicals, oil and dirt from penetrating down to your desk, bench or the area where you normally clean and work on your firearms. You can also actually throw it in the wash on a gentle cycle, allow to air dry and it will be virtually like new.
Notes From the Field:
Size: 36″ x 12″
Firearm Type: AR 15
Material: Absorbent neoprene base with a thermoplastic surface
The Final Verdict:
Overall this is probably the best gun cleaning mat that we could find specifically for the AR 15. The graphics are a nice touch, but what we really liked about it was it's practical construction.
The neoprene base keeps things from sliding around on your work surface, while the thermoplastic surface keeps your CLPs & solvents from seeping into the mat.
This is a nice buy at a pretty good price point, and should last quite a while.
UsefulThingy – 
Rifle Cleaning Mat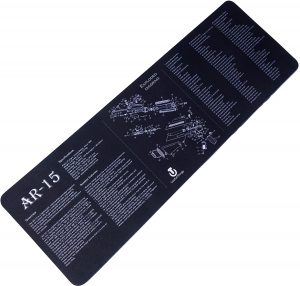 UsefulThingy certainly has a unique concept with this gun cleaning mat. Designed specifically for AR's, this product is made with a neoprene nonslip base.
Aside from the graphics on the mat, the thing that stands out about this rifle cleaning mat is that it is actually intentionally absorbent. UsefulThingy has gone out of their way to make sure that spilled CLP's & oils will actually soak into the mat instead of wipe off of it.
Now we understand that each shooter has different preferences, but that one has us scratching our heads a bit. Over time this is likely going to end up holding a ton of oil & smell a lot like a machine shop.
Notes From the Field:
Size: 36″ x 12″
Firearm Type: Rifles
Material: Absorbent neoprene base, nonstick material with embedded graphic ink.
The Final Verdict:
This gun cleaning mat from UsefulThingy has over 500 reviews without many complaints at all. Depending on your preferences you may actually prefer the absorbent material over the wipe-away style.
There are clearly plenty of people that like it. Maybe you will too!
Drymate – 
Best Shotgun Cleaning Mat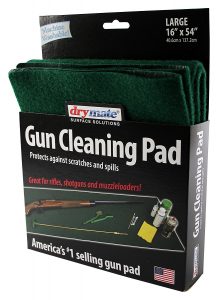 With so many products geared towards pistols and ARs, it's actually quite surprising how difficult it is to find a high quality large gun cleaning mat. We're talking one that's long enough for that Benelli Super Black Eagle III shotgun that you take duck hunting with you in the fall.
Well, here it is. Drymate has a great shotgun cleaning mat that is 54″ long, which is plenty long enough for cleaning most shotguns. It's made from an absorbent top layer with a waterproof backing. This way you absorb any spills while still protecting your workbench or table.
The price on this is very reasonable, and if it ever gets too oil soaked it isn't the end of the world if you need to buy a new one. Unlike out other gun cleaning mats on the list, this product actually comes in a few different color options. You can choose between green or orange, depending on your preference.
Notes From the Field:
Size: 54″ X 16″
Firearm Type: Pistol / Rifle / Shotgun
Material: Absorbent material with rubber back
The Final Verdict:
Overall this is a pretty good shotgun cleaning mat from Drymate. Boasting over 300 reviews from satisfied customer it is a good option for those that want to save their spending money for shotgun shells, not cleaning gear.
Ultimate Rifle Build –
Top Gun Cleaning Mat Design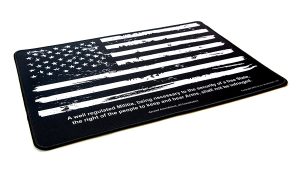 It goes without saying (but we will anyway) that we're big supporters of the 2nd Amendment. This distressed flag & 2nd Amendment gun cleaning mat is a pretty nice touch for any firearm enthusiast out there.
Based on the size you would only want to use this as a pistol cleaning mat. Measuring in at 11″ x 17″, this mat would be too small for something like a rifle or shotgun.
Notes From the Field:
Size: 11″ X 17″
Firearm Type: Pistol
Material: Polyester top with waterproof coating with non-slip rubber backing
The Final Verdict:
There isn't much to say about this product from Ultimate Rifle Build other than that it looks great and functions well. While it doesn't outperform any other gun cleaning mat by a mile, it certainly checks all the boxes it needs to.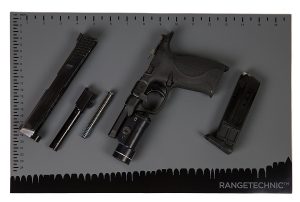 Like we mentioned above, there is nothing more frustrating than opening your gun cleaning kit just to find your oil-soaked mat got everything dirty. Well that was exactly the problem Rangetechnic set out to solve when they came out with their gun cleaning mat.
Made from a thermal resistant silicon rubber, the Rangetechnic mat actually reminds us a bit of a silicon cutting sheet. You can easily use a rag, cloth, or paper towel to remove any excess oil from the mat.
Thermal Resistance?
While it is probably simply an added feature based on the material they were going to use anyways, we can't figure out why you would need a thermal resistant mat. Rangetechnic claims their gun mat can handle heat up to 500+ degrees Fahrenheit.
I don't know about you, but my gun is pretty much always cooled down when I'm cleaning it. It's not like they're charging extra for the feature, but it just seems like a curious thing to highlight.
Aside from doubling as a coaster for your coffee mug, this is probably a feature that simply isn't going to get much use.
Simple, But Solid
This is a pretty basic cleaning mat when it comes to artwork, which is more than okay with most firearm enthusiasts. The Rangetechnic gun cleaning mat is a simple gray color with a bit of black border at the bottom.
A lot of times extra pictures & graphics can actually make finding that spring difficult for those with poor vision. Having a less visually-crowded mat certainly isn't a bad thing, especially for cleaning pistols & handguns.
Notes From the Field:
Size: 11″ x 17″
Firearm Type: Pistol
Material: Non-absorbent Thermal Resistance Silicone Rubber
The Final Verdict:
Rangetechnic has a nice little gun cleaning mat here. We'd consider it one of the best pistol cleaning mats on the market based on it's simplicity & cost-effectiveness.
Sage and Braker – 
Waxed Canvas Gun Cleaning Mat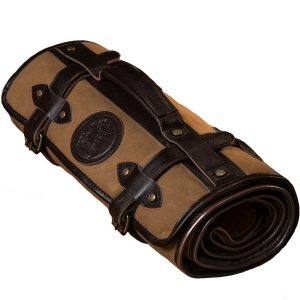 If you're looking for the Cadillac of gun cleaning mats, this is it right here. The Sage and Braker waxed canvas gun cleaning mat is easily the best gun cleaning mat on the market right now.
Cadillacs certainly aren't cheap though, and the same can be said about this waxed canvas gun cleaning mat. Coming in at the $150+ range, this is for the serious shooters that don't settle for anything but the best.
Needless to say, this Sage & Braker model is likely going to be more expensive than most people can stomach. That's completely understandable, but you can't deny the quality of this product. The interior is a waxed canvas, which like many shooting vests & upland chaps prevents moisture from soaking into the material. The outer material is a high-quality heavy wool & thick leather.
Additional Features
If you're going to charge significantly more than your competition you better have a few features that they don't. Well that wasn't lost on Sage & Braker when they designed this gun cleaning mat.
The mat actually doubles as a gun cleaning kit as well by including pockets. They are specifically designed to hold all your brushes, bore snakes, lubricants, and whatever else you want to include.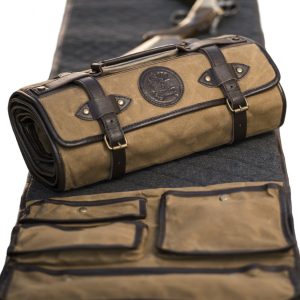 This waxed canvas gun cleaning mat also has some great finishing touches. When rolled up it is secured with some high-quality leather buckles & even has its own carrying handle.
Another separating factor from this product vs others on the market is the high quality quilted wool gun cleaning surface. It's ideal for cleaning firearms as it won't scratch due to the lack of abrasives.
Notes From the Field:
Size: 69″ X 16″
Firearm Type: Universal
Material: Waxed Canvas, Wool and Leather
The Final Verdict
This is far-and-away the universal best gun cleaning mat that we've had the opportunity to get our hands on. It does come at a higher price, but if you're serious about your guns you likely don't mind. Paying a bit more isn't terrible as long as it is for something that will last you a lifetime.
So what makes for great gun cleaning mat reviews?
There are a lot of things that can earn a product a good review, and the same goes for a bad one.
Is it practical?
We're really not sure when practicality & common sense got thrown out the window by most review & DIY sites out there, but it's alive & well here at Guns Cleaner.
A good gun cleaning mat should be practical. We aren't looking for something that's insanely overpriced just to make us look like we're super-rich If the product is expensive, it better have the extra features, durability, and reputation to back it up.
The same can be said for more budget friendly products. Saving money is great, but if you aren't getting what you need out of your gun cleaning mat you're actually wasting more than if you had bought something that was useful but expensive.
Does it check the major boxes?
In our minds the best gun cleaning mats are going to serve two purposes:
First, they are going to keep you from making a mess – or at the very least they're going to keep the mess contained. The gun cleaning mats should have been designed so that any CLP or solvent spills aren't going to soak into your workbench or end up on the floor.
Second, do they help keep your firearm from sliding around while you're cleaning it? We always recommend to use a gun vise maintenance center where possible, but when you can't your mat should keep things from sliding around too much. Having a gun cleaning mat that grips the surface beneath it is critical in these scenarios.
Who Is Selling It?
To us it really doesn't matter if it is a gun cleaning mat from a huge brand or simply a great product from a mom-and-pop shop. A great product is simply a great product.
With that being said, a company should always stand behind their product. So as long as they are providing good support for their customers should any issues arise, it's all good.
We listen to feedback from our readers regarding the company's responsiveness to their customers' needs. If a company just completely falls off the map at the first hint of an issue arises, we're going to make sure our readers know about it.
Top Gun Cleaning Mat –
Our Picks
There are a ton of options out there when it comes to gun cleaning mats, and the truth is you really can't go wrong if you do your homework. That being said, there are a few that stand out above the rest.
Best Gun Cleaning Mat –
Overall Award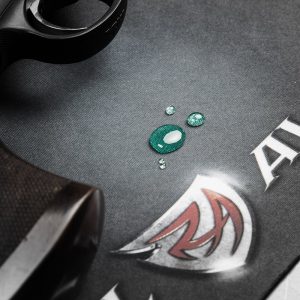 It would be unrealistic to give such a high-end gun cleaning mat the only award here, as most people would never consider buying such an expensive option. Don't worry, we've got you covered here too.
Our award here for best overall gun cleaning mat goes to Real Avid Smart's universal cleaning mat. They feature options for both the handgun enthusiast & those shooting a longer AR, rifle, or shotgun.
The thing that really separates this gun cleaning mat from others on the list is the magnetic parts strip that they've incorporated into their design. This has saved us from looking around for those hard-to-see gun parts more than once. It isn't clear if they have a patent on this design or not, but we haven't been able to find it anywhere else.
They've also used some of the best materials we've seen on products in their price range. CLP & gun cleaning solvent spill are easily wiped up with their non-absorbent top layer. Combine that with their no-slip neoprene material as a base, and we have a winning combination for sure.
That's all folks!
Well that's it for our article on the top gun cleaning mats. We hope you found good value in our picks – we certainly did! Who knows – maybe you even learned something new!
If you enjoyed this article be sure to check out our other posts about the best gun cleaning solvents to use for each situation, the best gun vise maintenance centers to keep from mishandling your gun, and the best bore snakes for cleaning your gun.
Be sure to give this post a like up on top of the page as well! We love getting feedback from our readers, and that's a quick and easy way for you to provide it to us!
Stay safe & shoot straight out there, and don't forget to check back for more gun cleaning tips to keep your firearm in top shape for years to come.