Gun owners who are looking for the Best Gun Safe Under 1000 dollars need to consider quite a few factors. When you think of a gun safe it refers to a space to store firearms.  It is going to protect them inside, but also protect them from being mishandled or stolen. Gun safes that are designed to support the storage of long guns, handguns, and ammunition can be a great investment. They serve the intentions to protect from intruders, natural disasters, or house fires.

However, when looking to buy, you have to consider the size, security, safety, warranty, fire rating, weight, and of course price. As a result, we have selected the best gun safe under 1000 dollars based on these factors. Our focus is to make it easier for you when you're looking to purchase your next gun safe.
Best Gun Safe Under 1000 Dollars –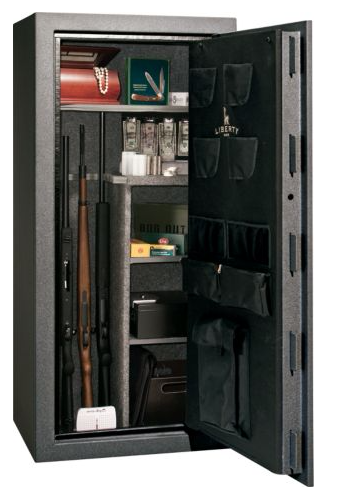 This is the best gun safe under 1000 dollars from Liberty, based on its size and capacity. With this safe, you'll be able to store 24 firearms. However, I usually take into account that in reality, most manufacturers over-inflate their capacity. Nonetheless, I have seen 24 guns fit, but it all depends on the size and models of guns you own. Thankfully with this gun safe, you get the ability to customize the inside layout. The 3-in-1 flex allows you to add and remove shelves. Therefore, you can store guns on either side and vice-versa build shelves on the opposite side. This gives plenty of space for accessories, ammunition, and gun cleaning kits.
Next, when you go to swing the door you'll notice it's a two piece 14-gauge heavy duty door. It's constructed with no seams exposed to allow anyone from prying or tampering with the safe's door.  To secure the door, you can count 10 military-style locking bars that provide enough security on all sides of the door. As a result, the bars are designed to engage evenly and consistently making sure they lock correctly every time. The door is equipped with break-resistant lock-down hinges. Therefore, stronger than traditional welded hinges. In addition, if anyone tried to pry on the locking mechanism, it's equipped with a slip clutch to prevent any damage.
Lastly, the door is rated to keep your valuables safe and secure under fire and any tampering. On top of all that, the door is designed to open 180° allowing you to easily remove and store your firearms inside it with ease.
Description
Specs
Number of Guns
24
Size
56"H x 25"W x 13.5"D (Interior)
59.5"H x 28.25"W x 22"D (Exterior)
Number of Bolt Locks
10
Lock Type
Electronic Keypad
Warranty
Limited Lifetime
Fire Rating
30 min @ 1,200°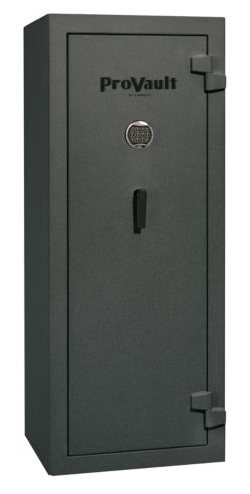 The ProVault 18 Gun is the best gun safe under 1000 dollars for the price. It's hard to find another safe with the amount of capacity the 18-gun has to offer. Therefore, this is one is Liberty's top seller in this class. Since Liberty has been able to build and sell so many, they actually produce these right here in the USA.  This is why it's one of our favorite safes on the market. The two-piece robotically welded steel construction shows off the accuracy and detail of Liberty's excellent work. The safe is designed in such a way that it eliminates the ability for thieves to pry on any side of the safe's door. This was a feature that we had a hard time finding anywhere else.
Even though this safe is a few guns less than Liberty's 24-gun safe, the money savings is enough to make us want to buy the 18-gun safe. The 18-gun safe still has similar safety features as the 24-gun.  Such as the 10 military-style locking bars and UL-listed E-Lock that allows for increased safety and security. The 1″-thick composite door includes multiple layers of fireboard providing an industry leading fire rating for the price. However, Liberty didn't stop there, they were able to make the door gussets anti-pry giving you the peace of mind knowing they can't be tampered with.
The ProVault even has an electronic keypad that allows for quick access and the ability to set any entry code. As a result, this makes the 18-gun safe one of the best safes on the market under $1000.
Description
Specs
Number of Guns
18
Size
56"H x 22.25"W x 13.5"D (Interior)
59.5"H x 24.25"W x 22"D (Exterior)
Number of Bolt Locks
10
Lock Type
Electronic Keypad
Warranty
Limited Lifetime
Fire Rating
30 min @ 1,200°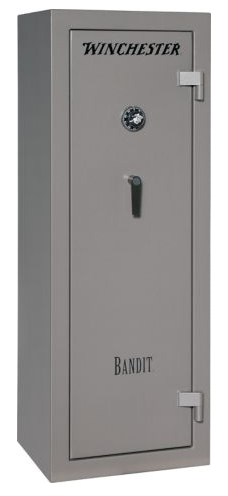 Winchester has made the Bandit series to contend with Liberty. As a result, they have been able to do a great job at giving another fantastic option when finding the best gun safe under 1000 dollars. With multiple levels of security and a heavy duty construction, you'll find the Bandit can protect your firearms from any burglary attempt. However, if that isn't enough, Winchester will guarantee free replacement in the event of burglary attacks. This paints the picture of how Winchester stands behind the products they make.
The body of the safe is made of 14-gauge steel fitted with robotic welds and solid-steel external strap hinges. Therefore, it's hard to find another safe that provides this type of detail and precise construction. The mechanical lock is UL-listed providing easy access to open and close the gun safe. Once locked, the Bandit safe will have five active 1″ steel locking bolts and five deadlocking bolts holding the door secure. In addition, the door is recessed and reinforced preventing any prying or jamming from thieves.
Lastly, the safe is rated under fire protection better than any other in this article. As a result, this is a great safe if you live far from a fire department or want that extra sense of security from disasters. The Winchester Bandit is our highest recommended safe for under $1,000.
Description
Specs
Number of Guns
18
Size
57"H x 20.25"W x 12.75"D (Interior)
60"H x 22"W x 18"D (Exterior)
Number of Bolt Locks
10
Lock Type
Mechanical Combination Lock
Warranty
Limited Lifetime
Fire Rating
45 min @ 1,400°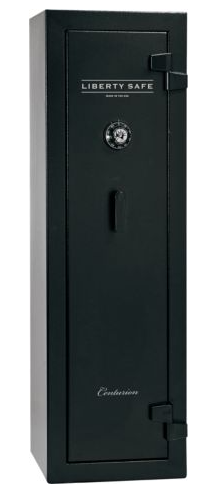 It's hard to find any gun safes that offer the security and value of the Liberty Centurion. It's not designed to fit more than a dozen guns. However, if you are in need for the best gun safe under 1000 dollars, and you own just a few firearms, this is the gun safe for you. Even though it's smaller than the other Liberty safes, it still offers ten (10) 4″ wide military-style locking bars that secure the door from all sides. I haven't found another safe on the market that offers that type of security for this price.
In addition, you'll find that the two layers of fireboard offer plenty of fire protection in the event of a house fire. Plus, the door seal is a Palusol heat-activated seal that expands seven times its size to help seal in the contents. Therefore, it provides substantial protection of the internal contents from any fire damage. Similar to Liberty's heavy-duty design, the Centurion 12-gun is equipped with a 1″ two-piece steel door.  Due to the construction design, it is said to be stronger than any three-piece design on the market.
You'll find a mechanical UL-listed lock that gives users access to unlock the Centurion safe. Finally, the safe is protected by Liberty's robust lifetime warranty providing firearms owners with a piece of mind with storing their valuables inside.
Description
Specs
Number of Guns
12
Size
56"H x 16.25"W x 10"D (Interior)
59.5"H x 18.25"W x 18"D (Exterior)
Number of Bolt Locks
10
Lock Type
Mechanical Combination Lock
Warranty
Limited Lifetime
Fire Rating
30 min @ 1,200°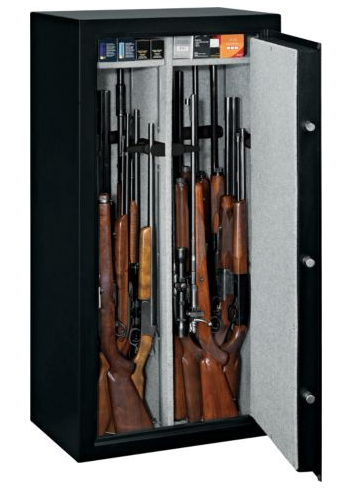 Stack-On may not be as elite as the Liberty series. However, if you are in need of a gun safe that is simple, secure and does the job of protecting your firearms, there is no other safe on the market for the price. The Stack-On is very inexpensive and yet it offers plenty of gun space for the price. You'll notice the gun safe is capable of holding 16 guns and yet still has some simple storage space. Inside you'll notice that the side walls are still lined with soft non-scratch material and there are barrel holders for long guns. Not only that, it offers an easy access electronic keypad as the means to open the safe.
The one thing you will notice is there are less locking bars that hold the door shut. However, this is what allows Stack-On to hit such a low entry-level price point. However, the door hinges are still designed to be hidden, preventing any tampering or prying. The drill-resistant hardened steel plate also offers enough security from any thieves as well. Stack-On is the best gun safe under 1000 dollars, for anyone that is on a budget and needs to find a simple yet secure safe.
Description
Specs
Number of Guns
16
Size
54.75"H x 20" W x 16.75" D
55.13"H x 20.88"W x 20.06"D (Exterior)
Number of Bolt Locks
6
Lock Type
Electronic Locking Keypad
Warranty
Limited Lifetime
Fire Rating
-

Buying The Best Gun Safe Under 1000 Dollars –
Locks –
Depending on the manufacturer or even the price, you will find three different styles of locks for guns safes. Either mechanical locking dials, electronic keypads, or biometric fingerprint locks. There are some differences between the three. However, the main intention is to prevent any user from entering if they are not the main owner of the gun safe.
Mechanical Locking Dial – 

This is one of the most common, mainly because it was the first of its kind. The combination style lock dates back hundreds of years. Therefore, it's one of the most used styles in gun safes. One of the benefits of this style is that it requires no batteries or electricity to operate. It's just what it sounds like – mechanical. However, the drawbacks can be that the lock can't be reprogrammed. Meaning if the combination to open it falls into the wrong hands, the lock or gun safe may need to be replaced.

Electronic Keypad Lock – 

Electronic keypads are a little newer and quite common when looking for the best gun safe under 1000 dollars. With most electronics becoming widely available, these are quite inexpensive. Some safes may even have both an electronic and a combination lock as a backup. This is simply because keypads require either batteries or electricity. Now, a battery can last years before needing replacement. However, it is still something that can fail. The benefits of a keypad, however, are that you can create multiple combinations, reset it, have multiple users, numerous sequences, and they are much easier to use than combination locks.

Biometric Fingerprint Locks –

Lastly, the newest style lock is a Biometric fingerprint lock. These are quite common in handgun gun safes because they allow for quick access and extreme security. The Top Rated Biometric Safes can be found by clicking here. Furthermore, a biometric safe uses a fingerprint usually to unlock a gun safe. Therefore, this unique identification cannot be replicated. This makes them one of the safest, but also one of the more expensive to have.
Door Thickness –
Door thickness usually will result in a stronger more secure safe, because it's the single point of entry to gun safes. It is the most common point of attack for intruders and thieves. Therefore, having a door thickness that can withstand tampering and forced entry is very important. Typically multi-layered metal doors will offer a more secure door than one of no layers. As a result, a thicker door will give a heavier weight to the safe, which is why considering the weight of safe is very important. The door thickness also correlates to fire ratings as well.
Locking Bolt Thickness –
The bolts or rods are the most important to the security of a door. Simply because they are solely responsible for keeping the safe locked. When researching safes, you'll notice that the size of the bolts and the number of them will determine the security and the price of a gun safe. You may even notice one safe has them on all sides of the door, or another that just has them on the side opposite of the hinges. Therefore, paying close attention to the bolt will help determine the safety of a gun safe.
Fire Rating –
A house fire is the last thing that you want to occur at your residence. However, all the gun safes we reviewed have a fire rating. Therefore, if you keep important documents, jewelry, and your firearms in the safe you'll know they can withstand a household fire. The main thing to look for is the rating time and heat index. Most house fires can't reach over 1,200°F due to a house having windows that allow for the fire to exit the home, and responding fire departments. Most gun safes will have a fire rating of 1,200°F with a certain number of minutes of burn time at that temperature before damage would occur to the inside contents. Therefore, look for maximum ratings on a gun safe.
Design and Size –
As most gun safes are rectangles, they seem to be designed all the same. However, when you look inside them is when you find design differences. Safes can be customized to your needs. However, not all are created equally. Be sure to pay attention to the number of guns that fit inside as well. Lastly, be sure to check the dimensions for how long of a gun can fit in the safe. For example, shotguns can be quite long so you'll want to ensure your longest gun will fit.
Warranty –
Lastly, each manufacturer is a little different on a warranty and what is part of their warranty. However, when considering buying a safe under $1000 be sure the manufacturer has a warranty that suits your needs.
Benefits of Owning The Best Gun Safe Under 1000 Dollars –
Whether you are a hunter or a target shooter, shooting firearms can be a lot of fun.  They even can be a social ordeal for family and friends. However, owning firearms and knowing how to use them is a great responsibility. Therefore, finding a safe and secure location to store your firearms is extremely important. Some find a gun safe as too expensive or not worth the money. Considering a safe can cost as much as your gun can be hard to swallow. However, a gun safe is part of the responsibility of owning firearms.
Top Benefits –
Consider the example of buying a new car or truck, in the evening you park that car in a garage. A home is easily more expensive than a truck, but you park the truck inside a garage to protect it from the natural elements and from any theft or damage. Similarly, a gun safe is used to protect your expensive firearms from the natural elements and theft as well. Read the latest US Department of Justice Crime Report and you'll discover that there is upwards of 4 million household burglaries every year. To little surprise, firearms are one of the items that criminals commonly take whether a household member is present or not. Therefore, that's why having a secure gun safe is important when owning firearms.
Another benefit to consider when owning a gun safe is having a safe location, out of the reach from young children or inexperienced adults. Every year negligent discharge of firearms occurs in the United States. In many cases, these accidents can be prevented with the proper storage of firearms. Leaving firearms within reach of children or inexperienced adults is a negligent ownership of firearms. Instead, investing in a gun safe can help prevent these accidents. Plus it gives you security in knowing your firearms and ammunition are safe and secure.
The last benefit is that in the event of a fire or natural disaster, your firearms or valuable items kept in your gun safe can be salvageable. Gun safes under $1000 have flame ratings and can help protect in the event of fire or disasters.
The Best Gun Safe Under 1000 Manufactures –
Liberty Safe –
Starting from a rental storage unit and 6 safes a day, back in 1988. Liberty has been able to grow into one of the leading gun safe makers now making 450 safes a day. Located in Payson, Utah, Liberty currently produces their entry-level safes in the United States. Last year alone they built more than 125,000 gun safes. Liberty knows safes and just how to make them to keep your contents safe, secure and protected. Liberty's success in rising to one of the best selling brands in American has allowed them to private label for many corporations. Cabela's, Remington Arms, John Deere, and CASE IH are a few of the companies licensed to sell Liberty Safes with their company name on them.
Stack-On –
Stack-On is a part of the Cannon Family products line (Cannon Safe, Cannon Security, and GunVault). As a result, Stack-on consists of Sovereign, Sentinel, and Gladiator Cadet to form Alpha Guardian. The combination of these two companies has formulated one of the largest safe makers in the industry. Cannon first formed in 1965 producing large-scale personal safes and home security, products. Stack-On has a 40-year history of making home safes and gun security products. Stack-On delivers a wide variety of products for homeowners and sportsmen all over the world.
Winchester Safes –
Of course, Winchester has been around since 1866, but Winchester Safes wasn't started until 1991. Winchester took their experience and reliability of their gun manufacture and designed some of the best safes on the market. Their safes are built to protect firearms, valuables, and everything inside. Even though Winchester hasn't been making safes as long as the other two manufacturers, they have been able to quickly make a product line for handgun owners, rifle owners, and even tactical shooters.