If you in the market for a gun safe typically it used to be pretty easy. Head down to the local sporting goods store and pick from the three different options. However, the best gun safe can be a little harder than that today with the overwhelming number of options. Therefore, we have put together a guide designed to help when selecting the Best Gun Safe for your needs.
Of course, one would think that to have the best gun safe you must spend a lot of money. However, we took the challenge to find safes the fit under a $300 budget. As a result, a lot of handgun safes fit into this budget as well as some smaller rifle safes as well. However, in the even, you need a safe that has the ability to store 24 guns don't be afraid to check out The Best Gun Safes Under 1000 Dollars.
Our intent for this guide was to give you a clear picture of what to search for in a gun safe, quality, cost, security, and size. Which is why every safe is handpicked to be the best in their class while still holding the four key factors for finding the best gun safe.

Best Gun Safe For Hand Gun Storage –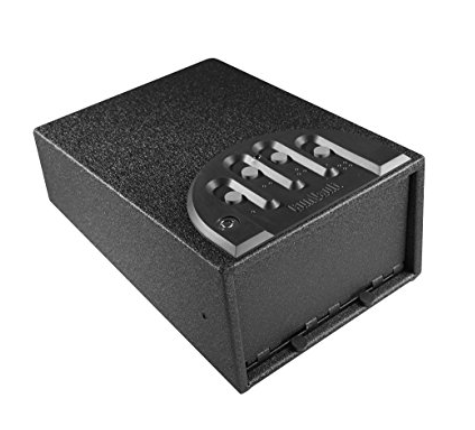 GunVault manufactures some of the best gun safe for handguns. The Standard Gun Safe fits the best criteria for a high-quality gun safe, and yet it's very affordable. Each safe is designed and made in the USA. The main intent for GunVault is to keep your firearms protected from thieves and unwanted hands. The safe is constructed of tempered steel making it quite durable and strong. You'll notice for access to the safe is a combination keypad that is fully programmable. However, if you are looking for added security this model is made with a biometric access key as well.
Upon using your gun safe the first time you'll notice the safe is designed to for quick access. Which is why this is the best gun safe for easy access handguns. The safe door is spring loaded and as soon as its unlocked the door opens by itself. Giving you access to the contents quickly. Therefore, this is a perfect home defense safe if you have a location in your home that you need fast access for. Inside the box, you'll also be given a template for mounting the safe to a wall, floor, or any flat surface. Therefore, making this safe quite secure since it doesn't weight more than 10 pounds.
The GunVault safe works with the use of one 9v battery with low battery indicators. However, in the event of the battery going dead, the safe does include a security key that allows for access as well. Lastly, the safe has enough space for one handgun with a little extra room for magazines or light documents. You'll also notice the safe is lined with soft foam to prevent your firearms from being damaged upon removal or storage.
| Details | Specs |
| --- | --- |
| Construction | Steel |
| Gun Capacity | 1 Handgun |
| Size | 13" x 8.5" x 5.5" |
| Warranty | 5 Year Full Warranty |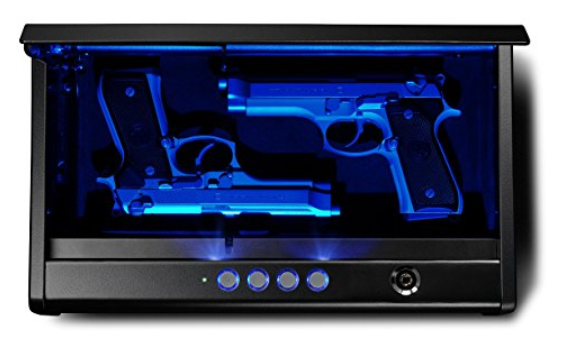 Sentry Safe is one of America's largest safe manufactures. Their safes can be found at sporting good stores to office paper stores. They create safes for just about everything. Which is why the Quick Access Pistol Safe is the best gun safe for two handguns. The added space also can give you the option to store one pistol and extra ammunition or documents such as passports and certificates. It also could give you an option for a full-size handgun and a compact concealed carry storage safe as well. Either combination you select, the Sentry Safe offers quick access to your handguns.
The entry for the safe is an electronic combination lock that allows for you to program a unique sequence. Upon entry, the door of the safe will be opened by gas struts that provide you with simple one-handed access. You'll also notice a LED light gives you the view of the safe once opened. The light doesn't require much battery because the light can be set to 0,10, or 20-second intervals when opening the safe. The four buttons for access also illuminate once pressed to provide light even in the darkest lighting situations.
Lastly, the safe is constructed of steel with a door that is designed to be pry resistant. Therefore, preventing any unauthorized users from tampering with the safe. The safe is also certified to meet California DOJ requirements.
| Details | Specs |
| --- | --- |
| Construction | Steel |
| Gun Capacity | 2 Handgun |
| Size | 6.5" x 14" x 2.2" |
| Warranty | Limited |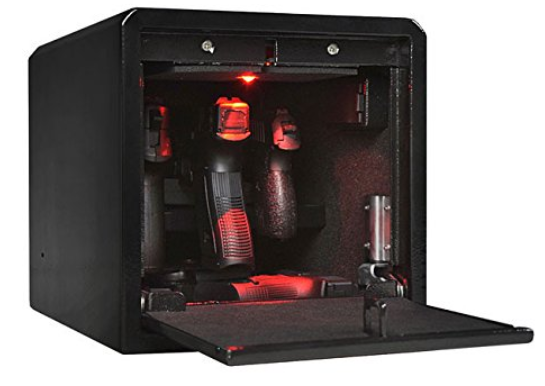 The Stealth Handgun safe is one the best gun safe for handguns in the event you have more than two. The safe can hold three vertical and two horizontal on the floor of the gun safe. Even though this is a smaller safe, it offers plenty of space for ammunition and documents in the event you don't have 5 handguns to store. Inside the safe is also lined with a soft foam preventing any scratches or hard surfaces from contacting your handguns.
The solid steel design offers superior security and theft preventing. Also included is a security cable that can be mounted to prevent anyone from taking the safe. In addition to the security of the construction is the spring loaded drop down door that not only offers quick access but the added security. Stealth has designed the door to be tamper resistant, and once opened it offers the widest opening. Inside you'll notice a LED light illuminates the interior offering light to the contents inside at night.
Lastly, the safe is unlocked with a finger touch keypad or key. This gives the user quick and easy access, plus the code can be reprogrammed in the event someone unwanted has the code.
| Details | Specs |
| --- | --- |
| Construction | Steel |
| Gun Capacity | 5 Handgun |
| Size | 9" x 9" x 12" |
| Warranty | Limited |

Best Gun Safe For Long Gun Storage –

Barska makes an array of differently sized gun safes. However one of their most popular is the Quick Access rifle case, as it allows owners to have a biometric technology for a relatively low cost. Therefore, you get fast access and the highest level of security. With also the ability to program over 120 unique fingerprints, which gives you full control over who has access to the safe. The safe may look small, however, it's designed for a safe and easy storage device for your long guns. Therefore, it can be placed in a closet, basement or bedroom without taking up much space.
If you are wondering how secure such a small safe can be it's actually the best gun safe for its superior security. On the door are three built-in deadbolts that engage upon locking. This helps prevent any thieves from prying or tampering with the door. The safe is also proven with pick, saw, drop, and pry testing, ensuring the safe is built for security.
Finally, the safe is perfect for the gun owner who has just a few long guns and a handgun or two. It serves as a great storage gun safe. However, it still allows you to have speed access to your firearms in the event of an intruder.
| Details | Specs |
| --- | --- |
| Construction | Steel |
| Gun Capacity | 4 Long Guns |
| Size | 9.75" x 8.63" x 52.13" |
| Warranty | 1 Year Limited |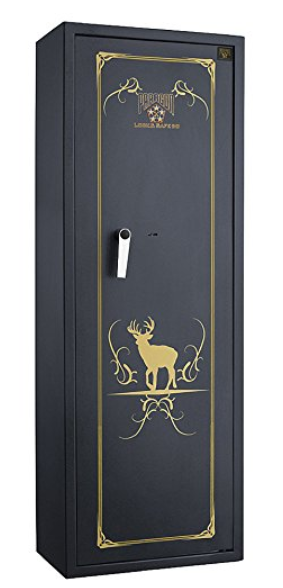 If you're looking for an inexpensive long gun safe, look no further. This is far from an inexpensive lightweight locker. The safe comes in at over 100 pounds with a heavy-duty steel door. The door has two steel locking bolts that hold the door locked with the turn of a key. As a result, this safe has a key as the only way to access and lock it. However, inside you'll notice a second compartment that locks for handguns or ammunition.
The Paragon safe offers plenty of storage for such a low cost. Now, of course, having an electronic or more secure entry lock would be nice, however, with that price usually increases. Instead, the value is in the size and the strength of the 18 gauge solid steel frame. It also includes a storage rack that sits on the inside providing a gun rest for the storage rifles or shotguns. The Paragon safe also includes anchoring points to mount to a solid wall to prevent any theft of someone taking the entire safe.
Lastly, the safe's interior is padded with soft grey carpet preventing any of your firearms resting on metal. One of the best aspects of this safe is that for Amazon Prime members shipping is free for such a heavy and robust gun safe.
| Details | Specs |
| --- | --- |
| Construction | Steel |
| Gun Capacity | 8 Long Guns |
| Size | 19.75" x 12.5" x 55" |
| Warranty | 10 Year |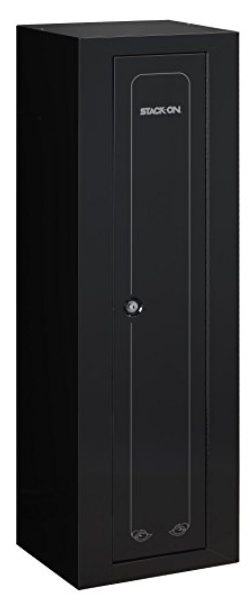 StackOn makes one of the best security cabinets on the market for a low price. Now first off this isn't a high-security safe similar to the others listed above. However, what this cabinet does well is protecting children and inexperienced gun handlers from accessing your firearms. This cabinet can be stored in a safe closet or basement and with a simple key, it can keep your firearms locked up from anyone. It doesn't have the prying or dropping security like the Barska. However, what it does well is secure your guns from at home guests and kids.
The one thing that this gives you as an owner is ample gun storage. Since the safe isn't built with thick steel walls. It provides 10 spots for shotguns or rifles. Making this cabinet one of the largest on the list and yet it's still well under a $300 budget. If you are more concerned about theft, you will find that all of the hinges are located on the interior of the cabinet. This helps prevent tampering and prying a little more than if they were on the outside.
The StackOn safe does meet California DOJ standards while still providing a scratch resistant foam lined interior. The interior also has gun rests for your shotgun or rifle barrels. I would recommend mounting this one to a sturdy wall since the lightweight design can make this mobile if not secured. This is the perfect safe for homeowners that need a cost effective way to protect their children or unwanted guests from handling their firearms.
| Details | Specs |
| --- | --- |
| Construction | Steel |
| Gun Capacity | 4 Long Guns |
| Size | 9.75" x 8.63" x 52.13" |
| Warranty | 1 Year Limited |

FAQ When Looking For a Gun Safe –
Why Do I need a Gun Safe?
Most firearm owners ask this question, why buy a gun safe especially if I keep it hidden and out of reach from any intruders. Without a gun safe, nothing is out of reach or hidden from thefts or even children. Every year thousands of homes are burglarized and firearms are one of the common items taken. In addition to that, every year numerous accidental firearm injuries occur due to inexperience and young children playing with firearms.
A gun safe keeps your firearms in a controlled location where you as the safe owner has access to it and no one else. Gun safes serve as security for your firearms from theft or unwanted handling of your firearms. A gun safe can also serve as a location to put valuables such as money, jewelry, passports, and important documents.
Will A Gun Safe Protect My Firearms?
Simply put, absolutely. The leading gun safe manufactures make safes with the highest standard in defense. Safes are designed to prevent prying, drilling, and break-ins. Therefore, if you read through this article on the best gun safe for the money. You'll find out the safes listed are all safes that offer superior protection from tampering. However, there are safes from low quality manufactures. Therefore, make sure you do your homework on each gun safe company.
How To Select A Gun Safe?
There are a few factors to consider when buying a gun safe. First, determine the size of safe you need. The size usually is indicated by inside dimensions and a number of guns that it can hold. There are small handgun safes all the way up to safes that can hold 20+ long guns. As a result, look at what you need before you buy. Second, is to look for gun safe manufactures that make their safes from high-quality materials. You will need a safe that can't be penetrated or tampered with. Most safes are made of a steel construction, so be sure to check the steel thickness.
In addition to size and quality, finding a safe that is designed to fit in the location of where you want to store your firearm is important. For example, if you plan on having a handgun in a bedroom closet or under a bathroom sink. Be sure to find a small enough safe that can be mounted in this places. Some safes have unique opening designs. Therefore, be sure to check that it will work in the location you have selected. Lastly, be sure to look into the locking system to unlock your safe. There are multiple styles some quicker than others and some more secure. They just depend on the price you are willing to spend.
Is It Necessary To Invest In A Gun Safe?
Owning a safe will prevent and restrict any unwanted users trying to use or take your firearms. A safe is a necessary responsibility for any firearm owner to help protect others from your guns as well. Gun safes also make for a central location for firearms in your household. In addition, you know who has access to the guns and who doesn't. Therefore, finding the best gun safe for your needs is extremely important for everyone.
Factors To Consider When Selecting A Gun Safe –
Gun Safe Thickness –
Gun safes are constructed of steel. Usually, you'll find that they are rectangular or square boxes with one access door. You won't find many safes to be made of other types of materials due to steel's superior strength. However, what you will find is that the difference between a low quality and high-quality security gun safe is the thickness of the steel used. In addition the number of layers of steel used. For example, a gun cabinet is usually the least expensive option for protecting your firearms. A solid steel vault is going to be the opposite, expensive but extremely secure. Most firearms owners look for a safe that is in the middle of the road, secure, but still affordable.
Gun Safe Locks –
There are three different kinds of locks for gun safes. Biometric, electronic keypads, and mechanical or dial locks. All three of them serve the purpose of allowing only the users with the code or combination to access the safe.
Mechanical Locks allow gun safes to use no batteries or electricity to function. They are the most durable and reliable. However, what they do lack is quick access. Most safes are 3 to 4 digit combinations meaning you have to spin the lock around multiple times. In the event of an intruder, this may be an issue.
Electronic Safe Locks give the user a multiple digit code that can be entered onto a keypad similar to a phone number. The code can be programmed and change in the event someone gets the code. As a result, these are quite quick to access and easy to use. The one downfall is that they usually require batteries or electricity to function. Thankfully, most keypads give the user a warning of when the battery will die. Some even have a secondary key to open the safe in the event you forgot your pin or the battery died before you can change it.
Biometric safes require usually a fingerprint to access the safe. These are the fastest, and the most secure as a fingerprint cannot be replicated. However, they again use electricity to function. Usually, biometric access is found in handgun safes. If you are looking for one of them in particular. The Top Rated Biometric Gun Safe can be found here.
Bolt Locking System –
Every safe has a unique way that it locks the door to the safety cabinet. Larger long gun safes usually have bolts or steel plates that engaged to secure the door. Some of the smaller safes have a latch made of steel that locks the door on. No matter which kind it is. Be sure to inspect and make sure that the locking system will secure your firearms properly.
Fire Rating –
One thing to consider when looking for a gun safe is whether you want fire rating as well. Many of the larger safes have a fire rating. Meaning that in the event of a house fire the contents of the safe will be protected for a certain time frame to a specific temperature. However, not every handgun safe has the same ratings. So if this is something you want, be sure to look before you buy.
Protection –
Lastly, is to consider what type of protection is needed from your gun safe. Even the least expensive gun safe can protect your firearms from theft, humidity, or fire. However, most inexpensive gun safes don't do all three. Therefore, if you need all three, be sure to look for a safe that can match the needs of security you are looking for. Most manufacturers offer various types of safes. Therefore, if the one you are looking for doesn't offer fire protection, usually the manufacturer will offer that in another model of theirs.