Many hunters throughout multiple states try and extend their hunting season by owning a muzzleloader. Many states around the nation have a muzzleloader or black powder gun season shortly after regular rifle season. Now for most hunters, they assume they put their muzzleloader back in the safe cleaned and oiled from the previous season. So when the next season rolls around they expect a proper shooting muzzleloader, but soon come to find out that they forget to clean it and now parts have started to rust or worse won't work. Owning a muzzleloader is perfect for extending your hunting season. However, since that firearm is used only a few times a year, it's easy to neglect if you don't own a cleaning kit. This is why we have decided to put together the best muzzleloader cleaning kit since most universal kits don't have the necessary tools to clean a .50cal muzzleloader.
Comprehensive Comparison Summary
How Often Should Your Muzzleloader Be Cleaned –
On average most hunters fire their muzzleloader less than 100 times in their life. Plus, that's assuming they are shooting it multiple times a year.  More than likely most muzzleloader owners aren't firing their gun every year. This is more of a reason why you should be cleaning your muzzleloader after every time you shoot it since it could sit for long periods of time. It only takes one shot for the bore to be coated with the corrosive chemicals that occur when gunpowder ignites. If you shoot once and give the old shooters response, "I'll clean it next week," more than likely you will never remember and it will sit for a year or maybe even two between hunting season. This is exactly how most muzzleloader owners end up with a rusted inaccurate gun.
Clean your muzzleloader after every shooting
Clean your muzzleloader if you plan on storing it
Check on your muzzleloader every 2-3 months to ensure that no rust is occurring after cleaning.
How To Clean A Muzzleloader – Quick Tips
The greatest thing about cleaning a muzzleloader is how easy they are to clean. Follow these three steps and you can have your muzzleloader cleaned in less than five minutes. The following steps are designed as a universal means of cleaning and oiling your firearm. Most gun manufacturers will have a step by step version of how to clean a muzzleloader in the owners manual you received upon purchase.  If you don't have one, a gunsmith that specializes in black powder guns can easily give you a walkthrough on cleaning as well.
Step 1: Clean Barrel – ENSURE FIREARM IS UNLOADED
Open the Barrel
Take a saturated patch with bore cleaner on it.
Run the patch with your cleaning rod down the barrel as many times as necessary, until the patches are nearly white. Therefore, that can take 5-6 passes.
Run one last patch with oil on it to prevent any rust.
Step 2: Clean Breech
Clean Breech Plug

Remove the plug and submerge in cleaning solvent.
Be sure to use a small brush to remove all debris and build up.

Clean Threads Inside Barrel Where Plug Sits

Take a saturated cleaning patch and clean out the threads. This is where most people forget and end up having their breech plug seized because they forget to clean and oil.

Grease Breech Plug threads and reinsert.

Greasing or oiling the threads will ensure that over time it will not rust and seize up.
Step 3: Wipe Gun Down
Lastly, take an oiled cloth and wipe down the exterior components to prevent any rust when the gun is in storage.
Best Muzzleloader Cleaning Kit –
At Guns Cleaner we took almost a dozen muzzleloader cleaning kits and put them to the test in order to find out what makes the best muzzleloader cleaning kit. We decided to look at quality, cost, and included equipment, as our criteria for determining the best muzzleloader cleaning kit.
Thompson Center T17 – Muzzleloader Cleaning Kit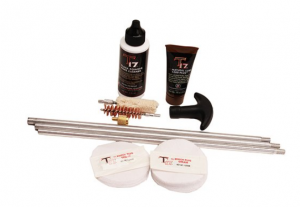 Thompson Center Arms is an American firearms company located in Massachusetts. Founded in 1965, they are known for their interchangeable barrel guns and muzzleloaders. For over 40 years they were privately owned until they were bought by Smith & Wesson in 2007. So it's no surprise that they would create their own muzzleloader cleaning kit. Now, of course, this kit can be used for other muzzleloaders, however, it was designed with the TC guns in mind.
The T17 kit includes the necessary solvents, cleaning rod, patches and cleaning brushes required to clean your muzzleloader. The cleaning rod is a good quality cleaning rod to get you started. Like most cleaning kits it's made of Aluminum. Furthermore, if you are looking for a solid one-piece design, check out the top cleaning rods here.  The bore brush is made of copper and soft metal bristles. We were also impressed by the included jag.  It seemed to hold cleaning patches really well as we cleaned out the bore. Lastly, the solvents included are made of high-quality cleaners that break down debris and carbon that builds up inside the breech and bore.
Included –
3 Piece Aluminum Cleaning Rod and Handle – 32″
2oz Bore Cleaner/powder solvent
3/4oz Natural Lube 1000 Plus
Breech Plug Grease
.50cal Bore Swab, Jag, and Brush
20 Cleaning Patches
Kleenbore Gun Care – Universal Muzzleloader Kit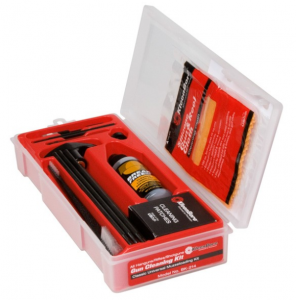 Kleenbore is a brand run by Safariland Group, a company with a long history of law enforcement and sporting industries products. They currently run 25 plus brands that range from tactical gear to personal flotation devices. Kleenbore being one of their companies is designed for avid shooters and hunters. They make some of the best cleaning kits and solvents, including CLP Break-Free, if you are looking to learn more check it out here.
This kit is the perfect starter kit when you are looking for a low-cost muzzleloader specific cleaning kit. Therefore, one of the best features included with this kit is the Break-Free bore cleaner. It's one of the best on the market and it even has it's own location inside the gun cleaning box. This kit does include everything you need to properly clean your muzzleloader. Perfect for the one or two times you will need to clean your muzzleloader every year. This kit will last you for multiple seasons. Lastly, this kit includes everything you need for a great value.
Included –
Plastic Muzzle Guard
2oz Break-Free CLP
Nylon Gun Brush
Silicone Gun and Reel Cloth
Cotton Patches
Cleaning Rod
CVA Deluxe Muzzleloading Cleaning Kit –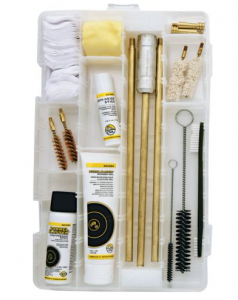 CVA originated back in 1971, making traditional side-lock muzzleloading rifles and DIY rifle kits. They quickly began building a reputation for making dependable and reliable muzzleloaders. Thanks to CVA expanding and growing, their company has been able to make advancements in creating accurate barrels and components.
CVA's deluxe cleaning kit is designed for both .45 and .50 cal muzzleloading rifles. The kit is perfect for both at home cleaning and bringing it to the range when sighting your rifle in. It includes everything that you will ever need to clean a muzzleloader. Most of all, we really like that it included both caliber sizes. Most universal cleaning kits include .45 cal, however, having both in one kit keeps it more organized.  In addition to multiple caliber brushes is its muzzleloader specific solvents to ensure that the breech won't seize up.
Included –
10×32″ Threaded 3-Piece cleaning rod
Small and Large Breech Brushes
100 Cleaning Patches
.45 and .50 cal brass jags, bronze bore brushes and swabs
4oz Barrel Blaster Gel
Storage Case
1.5oz Rust Prevention Spray
Breech Plug Anti-Seize Stick
Gun Cloth
Nylon cleaning brush