Owning a biometric gun safe is one of the best investments you can make as a firearm owner. Instead of having to remember where you put your key, you simply can use your fingerprint to open your biometric gun safe. Losing a key or forgetting a code is the last thing you want when you've locked your expensive firearms inside. Owning a biometric gun safe may save you precious seconds in a home defense situation.
However, like any product, no two are created equal. The same can be said about a biometric gun safe or commonly referred to as fingerprint gun safes. Every year new biometric gun safes are introduced to consumers, and some are made to outpace the existing manufacturers. However, others are unfortunately just trying to be in the market and they fall short on quality and durability. As a result, we have selected the top-rated biometric gun safe models to help with your buying decision.
What is Biometric Technology?
Biometric technology uses behavioral or physical characteristics for recognition. There is a multitude of forms such as voice, irises, veins, faces, handwriting, and fingerprints. The characteristics are meant to be personal and hard to replicate. Therefore, making them distinctive to each individual preventing theft or stolen information. As a result, in the safe industry, using fingerprint identification to gain access to a safe is one of the most reliable forms.
How Does A Biometric Gun Safe Work?
Safes that utilize biometric technology rely heavily on fingerprint scanners that identify your fingers ridges and lines matching them to a prescanned fingerprint key. The system typically records the biometric key or fingerprint when you first load your fingerprint with encryption. Most people think that the technology is taking an image of their fingerprint. However, what it is really doing is converting your unique fingerprint into binary code. (Just think of the movie The Matrix and the running green numbers.) What this really means is that your print or code cannot be duplicated. Making for a highly protected safe combination.
STEP 1 – Biometric Gun Safe Setup
The safe owner records their personal traits or fingerprint in most gun safes.
STEP 2 – Biometric Gun Safe Setup
Next, the biometric gun safe stores the transmitted fingerprint as binary code.
STEP 3 – Biometric Gun Safe Setup
The most important step is the comparison stage. This is when you chose to open the safe.  The biometric gun safe compares your print against the binary code loaded in step 1. Depending on the results, they are accepted if the unique code is loaded into the system. However, if it doesn't match, the entry is rejected keeping the safe secure.
Personalized Security –
The best feature that a Biometric gun safe offers is personalized safety and security. This is unlike combination locks where a code or series of numbers open the safe. A biometric gun safe can only be opened by the person or persons who have their personal print loaded into the safe. This keeps potential intruders and children from ever getting into the safe.
Where to Store A Biometric Gun Safe –
Most safes come in various sizes from large to small. Common biometric guns safes are small. Most gun owners need to think about what they are protecting their gun safe from: theft, fire, flood, etc. The second thing to consider is whether it needs to be accessible or not. Most of the time a gun safe stored in a basement will give you the best location for protecting against any humidity or extreme temperatures. Unfortunately, this isn't a highly accessible location for when an intruder enters your home at night. So, a second location would be a bedroom closet or hallway closet.
One thing to remember before every storing your firearms in a safe is to properly clean them. If you use the best gun solvents available, you'll be sure they won't become damaged from moisture inside the safe. As we talked about earlier, having a biometric gun safe is going to help with children tampering and trying to get into it, so you don't have to hide a safe like this completely out of reach for yourself to access it.
Verifi Smart Safe – Biometric Gun Safe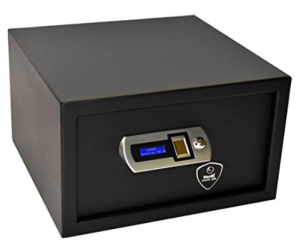 The Verifi Smart Safe is one of our favorite biometric gun safes available on the market today. It provides quick fast access fingerprint security. No need to remember a series of numbers or codes. Simply load your print into the safe upon set up and you will be able to access this safe for life. This safe's fingerprint sensor is FBI certified with 3D imaging. This doesn't have your typical cheap sensors found on a lot of the low budget safes.
Therefore, this safe even has the capabilities to add or delete individual users. This makes it quite safe if for some reason you decide that a certain individual cannot have access anymore. The Smart Safe has the ability to load 40 unique users into its system. This provides plenty of space for a family home. The safe even has a display screen that shows you access log and activity in the event you need to check on security.
Some of the features that this safe offers is an auto lock, NiteLite, and tamper alerts to name a few. Lastly, the safe is run with 4 AA batteries that can last for several years before replacement. The entire safe is a steel construction that can be mounted in various locations.
BARSKA – Biometric Gun Safe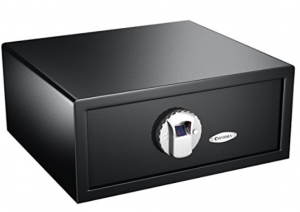 The BARSKA safe is the best biometric gun safe if you are a little more on a budget. Now don't start to think that this safe is built of lesser value than the Verifi Smart Safe. Rather, the BARSKA has fewer features, but none that ruin the security of the safe. The safe opens with the biometric technology by recording your fingerprint. It has the capability to remember 30 different users. This allows you to give access to multiple users while still securing your guns, jewelry, documents, and more.
One of the nice features that BARSKA offers is that it includes mounting hardware. With this safe weighing 31 lbs, it's nice to have the proper hardware for the safe. As you can see this is a heavy duty safe made to secure your important items. When you receive your safe you will be happy to know that it comes with a protective floor mat. This helps prevent your handguns from being scratched on the metal surfaces. The safe also includes two backup safety keys in the event your biometric safe is damaged by intruders who couldn't enter it with the scanner.
Lastly, similar to the Verifi Smart Safe this safe runs on batteries and has an expected life of 2 years on a set of batteries. Also included is a one year warranty that gives you the piece of mind when purchasing.
VAULTEK VT10i – Lightweight Biometric Gun Safe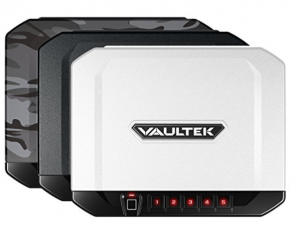 When you purchase the VAULTEK lightweight biometric gun safe your first reaction is to buy another. These are the perfect safes for storing in your closet, kitchen, family room, honestly anywhere. They are the perfect size for a handgun and prevent a loaded gun from getting in the hands of a child or intruder. However, it still gives the owner quick access when needed.
This is one of the easiest safes to transport as it is so slim and light. For example, if you wanted to keep your handgun in your truck or car this safe would be perfect for protecting against any break-ins. As a result, the safe is equipped with anti-pry bars, anti-impact latches, and security brackets to prevent anyone from tampering with the safe. However, even with all of this protection. The user still has quick and easy access with their fingerprint.
One feature that makes it stand out amongst the other biometric gun safes is that VAULTEK offers a smart app. This gives you the ability to manage the 20 storable users. It also gives you the ability to track safe usage and control the interior light. Lastly, the safe is equipped with a rechargeable battery saving you some money in the long run. The battery takes only 2.5 hours to charge and lasts 3-4 months.
GunVault SVB500 SpeedVault – Biometric Gun Safe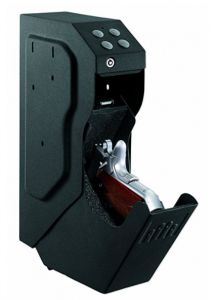 The GunVault is one of the most unique looking handgun safes. It features a drop-down handgun holster. This is our favorite biometric gun safe when it comes to accessibility. It mounts to a wall or cabinet in a verticle position. As a result, as the safe opens, it reveals your gun for easy access. The safe is made of 18 gauge steel and is lined with foam to protect your handgun.
Similar to the VAULTEK the safe can hold 20 users giving you plenty of unique users. This is a perfect safe for small businesses as well as for added security. The quick access and versatility to mounting make this perfect for under counters or desks.
If you are concerned about the battery life for this unit, the safe does give voice and LED low battery warnings. The safe even has a fail-safe key that overrides the fingerprint technology in the event you forget to change the battery. Finally, the last feature that is really nice for this safe is the interior safe light, making access quite easy at night or in low light conditions. This safe is designed for handguns only and doesn't allow much room for documents or other items. Hence, be sure that this safe is what you are looking for upon purchasing.
BARSKA Quick Access Rifle Biometric Gun Safe –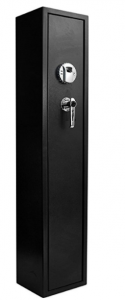 The quick access rifle safe from BARSKA is our favorite rifle gun safe. It's the perfect size for a few shotguns or rifles and even a little room for ammo and handguns. Now, most people assume that they wouldn't need a biometric gun safe for their long guns. However, with the technology, it makes for the perfect universal quick access safe. Plus you have the ability to safely secure your guns from unwanted entries with the technology. It gives you a very secure and safe feeling.
Since this safe is much larger than the first few, it does give you fewer places to locate the safe. However, a basement or even closet makes a great location for the Quick Access safe. However, even though it's larger it still gives you instant access in 2.5 seconds. As the fast scanner can read your print quickly. It also can store a total of 120 unique users. No need to worry that in the event of a home invasion the scanner won't read your print. The scanner records your finger in multiple angles when you first set up the safe. This gives it a 100% unlocking rate.
Lastly, the safe is constructed of 100% steel and has 3 built-in steel pins that lock the door. It also runs on AA batteries that last 1 year or 10,000 scans. The safe even features a backup battery plugin in the event the battery dies to gain access.
Sentry Safe Pistol Safe – Biometric Gun Safe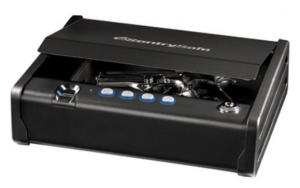 The Sentry Pistol Safe is very similar in size to the VAULTEK gun safe. It's designed to be a portable quick safe for your home or vehicle. A gun owner could even store their pistol in this safe and have the ability to move it around the home depending on where they are located. This way they will have access to it in the event of an intruder. It doesn't limit you like a heavy safe does.
The Sentry Safe provides quick and quiet entry. Upon opening the safe, the door opens with compression gas struts popping the door open. Giving you access to your handgun with just one hand. The door is fixed with anti-prying and is an all steel construction giving the safe security against any tampering.
Unlike the VAULTEK this safe doesn't have a rechargeable battery. However, with AA batteries this safe can last for multiple years. Lastly, Sentry offers a one year warranty on all of their safes.