Standard universal cleaning kits are great to have when it comes to owning multiple firearms. They make it easy to clean different caliber sizes and styles of guns. However, they aren't designed specifically for AR's, M4, AK or the M-16. Therefore, in this review, we take a look at the Best AR Cleaning Kits that are designed specifically for the .223/5.56 caliber firearms.
Guns Cleaner took a look at the leading gun cleaning brands and reviewed each kit that was specifically designed for the AR. Making sure we paid special attention to the included tools, the quality of each kit, and the value of each AR cleaning kit. We looked for the best AR cleaning kits trying to eliminate kits that were designed poorly or included low-quality tools and attachments.
Best AR Cleaning Kits Review –
Real Avid .223/5.56 Cleaning and Maintenance Tool Kit –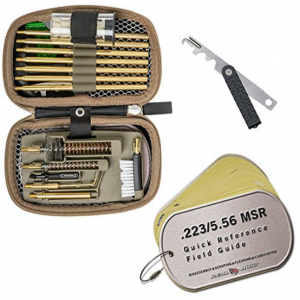 It's no surprise Real Avid makes a specific AR cleaning kit. Real Avid has dove in head first in cleaning supplies and their AR15 line up for tools, cleaning kits and cleaning mats is robust. They actually made our list for one of the best cleaning mats, check it out here. Nonetheless, Real Avid came out with one of the best AR Cleaning kits. It offers not only a cleaning kit but their scraper and quick reference field guide for cleaning.
To start, the cleaning kit fits in their very own compact portable cleaning case. The case features a weatherproof blastic nylon shell fixed with a zipper ensuring no tools or parts fall out when traveling with the kit. The kit organizes all included tools and attachments into a very concise and easy to find layout. When I reviewed other brands, that didn't make out Best AR Cleaning Kits list, we found many kits that just didn't have specific spots for their tools. Which is why we like the Real Avid kit so much. When cleaning the AR it does require a lot of tools and it's easy to lose an attachment, but with designated spots, we always knew if we were missing a tool in our kit.
The tools and attachments included in this kit are made of high-quality materials. The cleaning rod, bore brushes, and included scrapers are all made of brass, so as to not damage your AR. Included is even a brush head that attaches to the cleaning rod, making it easy to scrub and clean the tough to reach spots.
Included Scraper Tool –
I huge plus in this AR cleaning kit is the scraper tool included. Each tool is perfect for cleaning all of the carbon that builds up in all of the crevasses and crannies of a gun. The tool itself looks a little odd and almost confusing, but rest assured once you read the included quick reference guide you'll be sure to love the tool. It's designed to clean every possible tight to reach spots of your AR. If you don't buy the Real Avid cleaning kit I will advise at least ordering the scraper first. Check out the latest pricing on Amazon here for the scraper.
Negatives –
The Real Avid kit really is one of the best AR cleaning kits. However, it still has a few drawbacks, one being that the kit is a compact kit which makes the cleaning rod's 7 piece design a bit cumbersome. However, we have added to our list the Real Avid Boss Pro that offers a much better cleaning rod and handle. Lastly, it would be nice if the case offered space for solvents and cleaning bottles.
Otis Modern Sporting Rifle & AR Cleaning System –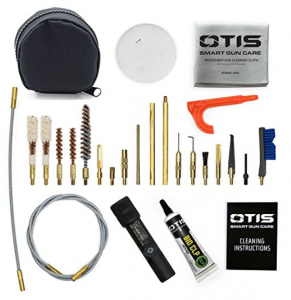 Otis really does offer the America cleaning kit, making sure their tools and attachments are made in the USA. Which we've found does make for some really high-quality tools and kits. Thanks to Otis' 8″ and 30″ memory-flex cleaning rods, this cleaning kit fits into a small compact case. Their cleaning rod design is a high-strength flex cord that can roll up, making them much easier to store than the brass cleaning rods. Otis also is known for including multiple tips and attachments in their kits. So, there is no shortage of brushes, picks, scrapers that are designed to remove carbon buildup without scratching your firearm.
This AR kit even includes a bottle of their 085, or CLP that is engineered to penetrate tight spaces preventing rust and corrosion. This kit may seem compact and tiny, but it really packs a punch for all that's included. Especially their included B.O.N.E. tool that cleans the bolt carrier assembly. If you own an AR you know carbon can build up and if not properly cleaned can lead to jams and malfunctions. Therefore, the B.O.N.E. tool was designed to clean the bolt carrier assembly effectively.
Negatives –
If you are someone who has to have a solid cleaning rod made of brass or aluminum, the memory-flex design may not be for you. It takes some time getting used to. However, after a few cleanings, I never saw issues with the design, and it worked really well.
Boosteady 
Pro .223/5.56 AR15/M16/M4 Rifle Gun Cleaning Kit –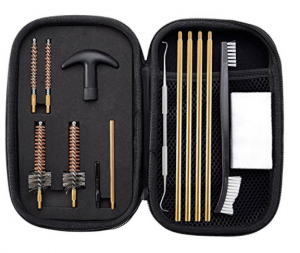 Boosteady's kit may not have the fancy case such as the Real Avid's and Otis. However, what they do have is the essentials. I know quite a few guys that have bought this kit simply because it has the right tools to get started cleaning your AR for an exceptional value. The kit includes a zippered soft nylon carrying case with 10 essential tools. Included are two .223 brass brush and chamber brush, one double-ended nylon brush, a 5-piece cleaning rod and handle, cleaning patches and metal cleaning pick. It doesn't have the comprehensive tools like the Otis cleaning kit, but it has the tools to get your firearm cleaned.
The kit is designed to have a universal approach, meaning it can be used in all M16 and AR-15 models. Boosteady AR cleaning kit is a great value for the price. Plus they offer a lifetime and money back guarantee. So, even though they don't have the highest quality of tools, they offer a guarantee if anything breaks or wears out. Lastly, we really liked the chamber brushes that were included. Each brush was fixed with stainless steel bristles for the locking lug area with brass bristles for the chamber.
Negatives –
A great kit for the gun range to do a quick repair, but for a deep clean this kit was a bit on the simplistic side. We needed a few extra tools and attachments to feel confident we were cleaning every nook and crannies. However, for a starter kit, the cost is hard to beat making it one of the best AR cleaning kits available.
GLORYFIRE Gun Cleaning Kit AR15 / M16 Universal Cleaning Kit –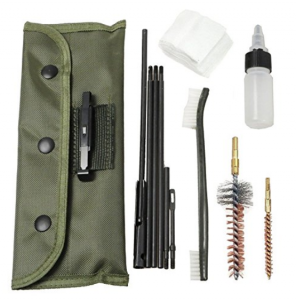 Gloryfire created a pretty unique kit compared to the others on this list. Think of this kit as the ultimate sportsman kit. It's created to be worn or taken to the range. The case has a belt loop so you can wear/carry it around your waist. So, if you are planning on doing some walking and shooting with your firearm. This kit may be nice to wear in the event you need to perform a quick cleaning. It's a bit niche, but we could see the setting this may come in handy. The cleaning kit includes the essentials for cleaning any AR. It made us think of the Boosteady kit when it came to whats included.
A simple 5-piece cleaning rod attaches to the included brass brush, chamber brush, and looped ends. It also includes patches, swabs, oil bottle and a dual-sided nylon brush for removing any carbon and grit build up. The reason this makes our best AR cleaning kits list is that it's hands down the cheapest kit we could find and you still get the needed cleaning tools. This is the kit you'd want if you could stash in your gun carrying case or truck glove box, to ensure you always have a cleaning kit.
Negatives –
Similar to the Boosteady kit, it's very simple. However, if you need a backup or spare kit in your gun case this is one of the best AR cleaning kits for that.
Real Avid Gun Boss Pro .223/5.56 MSR Cleaning Kit –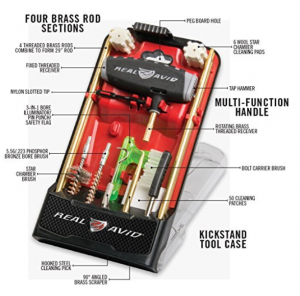 As we said early Real Avid has one of the most robust lineups when it comes to AR cleaning kits and tools. Therefore, we had to add their Boss Pro to the Best AR Cleaning Kits lists for the simple reason that this kit offers the best AR cleaning rod. If you've read our best 9mm cleaning kits review, you'll know we included the Real Avid Hand Gun Boss Pro which includes their awesome multi-function handle. This handle makes it extremely easy to scrape away carbon and pick out dirt and debris because one end of the handle is threaded for detailed work. The handle also has one end that is a tap hammer making it easy to remove any pins.
Real Avid does include their 3-in-1 safety/pin punch/bore illuminator in both the AR specific kit and this Boss Pro which is a great tool. It helps for confirming a clean barrel, or even using it to punch pins out with the tap hammer handle. The Real Avid Boss Pro will make you want to take your time in cleaning your AR, as all of the tools included are made with such quality making it almost effortless to clean your firearm. I know I spent far too much timing cleaning my gun with this kit, but it just made it so easy to keep clean. This is truly one of the Best AR Cleaning Kits to own.
Negatives –
It's hard to have a negative here, but if we had to say anything bad, we'd wish the reference guide and scraper were included in this kit. Similar to the Real Avid Pro Pack at the top of our review list. The scraper is a really helpful tool when it comes to cleaning out carbon.
How To Clean An AR –
There are hundreds of ways to clean your AR and there isn't a right or wrong way of how to clean. I know for our team at Guns Cleaner we are all still learning tips and tricks when it comes to cleaning our firearms. So, instead of telling you what is the right way to clean your AR. We decided we would tell you how we clean our AR, when we know we will be shooting it in the next week or so.
Step 1 –
Always make sure your firearm is empty and you've removed the magazine before handling your gun when cleaning.
Make sure you have a clean table where you can spread out the parts and pieces to ensure nothing is misplaced or lost. A cleaning mat is a great tool to have for cleaning any AR. If you are looking for a great one check out the Top Cleaning Mats here.
Step 2 –
Remove rear takedown pin and opening up the firearm.
Take out the bolt and carrier or charging handle.
Normally you don't have to take the upper off when cleaning.
Step 3 –
Grab a great can of your favorite CLP. Thankfully there are a ton of great brands out there. If you need some help selecting a brand, check out our Top Solvents Article here. I typically use Break Free CLP or Ballistol.
Open the chamber and get some lube down the bore. Get enough around the lug and bore. Try and keep as much as you can away from the gas tube. If you have been shooting quite a bit you can spray around where the bolt rides as carbon can build up.
Then set it aside and let the bore soak and your CLP break down any grit, carbon, and debris.
Step 4 –
Next, grab your bolt and we usually take it down. However, you could simply spray it down and clean it up for a quicker easier clean.
Otherwise, if you want to take it down you start by removing the firing pin retainer out or cotter pin.
The firing pin, bolt cam pin, and the bolt will fall out once the pin is removed.
Next, we soak everything down in CLP. We will dry off the CLP when we replace these parts upon assembly.
Step 5 –
Take your bolt that you removed in step 4 and spray your bolt with CLP. So that it can break down the carbon.
This is when a tool scraper that we talked about early such as the Real Avid Scraper or the C.A.T. M-4 scraper will come in quite handy.
These tools are designed and milled to hug your bolt and scrap off any carbon build up. You can also use a scotch bright pad as well to help clean.
The scraper also is designed to clean the firing pin too.
Running a small probe or pipe cleaner is ideal for cleaning out the inside of the bolt. This even works well for the gas keyhole.
Step 6 –
If you feel as though the carrier is quite dirty spraying CLP in the carrier will help clean this.
Next, you can use some cotton patches and a brush and clean out the inside of a carrier. I've found a .410 bore brush works really well.
Make sure it is a little oily after you wipe it all down. You want it to be oiled.
Step 7 –
Now that you have the bolt and carrier cleaned and wiped down you can place the bolt back in the carrier. Make sure you have oiled the rings, lugs and bolt.
Wipe down the cam pin, and place back in the carrier with the wiped down firing pin. Most of the pieces can only go back in one direction.
Place the firing pin retainer back in and your good to go.
Next oil down the outside of the carrier and just wipe off excess oil.
Next, Wipe down the charging arm with a little CLP.
Step 8 –
Next, grab the gun and clean out the inside of the chamber with a brush or q-tips.
Then grab your cleaning rod to brush, that you've selected from the Best AR Cleaning Kits review, and clean the bore. If you are looking for an alternative to a cleaning rod, you could always use a boresnake as well.
Make sure you take inside the bore to ensure no debris is left inside. If so run the boresnake or cleaning rod back through.
Step 9 –
Finally, place the lubed charging handle back in.
Next, take your cleaned and lubed bolt, placing that back in the firearm.
Lastly, replace your takedown pin.
Of course, there are more ways to deep clean an AR. You can remove the buffer and spring and clean that if you were doing a more in-depth clean. You could even oil down the safety pin, and trigger area. However, the steps listed above are how we usually clean our AR's 95% of the time. No matter what kit you select on the Best AR Cleaning Kits list you will be able to perform this type of firearm cleaning listed above.
When to Clean Your AR –
The best practice for cleaning your AR is either after you have shot your gun or you are planning on storing it for quite some time. Even if you plan to only shoot a couple hundred rounds at the range. Cleaning your AR after each use will ensure it doesn't have any malfunctions or worse yet rust occur. If you are looking for more information on when to clean your firearm check out this article here.
Why Clean Your AR –
Cleaning your AR is an important part of owning any firearm. Cleaning firearms makes sure that every part is properly oiled and greased. It also gives you an opportunity to know every detail about your gun. Hence when you clean your AR you have to learn not only how to disassemble but assemble your AR. For me, it helped me learn in the beginning the major moving parts to know how to fix it when things jam or even break. Plus knowing how to properly take down your AR and clean it gives a sense of pride in owning that firearm.
Best Equipment To Pair with The Best AR Cleaning Kits –
Gun Vise –
Having a gun vise really helps make sure you secure your rifle to a bench or table while cleaning. It can be easy to damage your firearm when disassembling or doing some routine maintenance. So, having a gun vise gives you the ability to lock down your firearm in an upright position. Ultimately making it much easier to work on.
Cleaning Mat –
Having a simple towel or blanket is essentially all you need something to keep your parts when disassembling organized. However, there are a lot of great AR cleaning mats on the market today that have magnetic bins for holding your parts. They even have diagrams printed on the mats showing you how to take down your AR. Plus a lot of the modern day cleaning mats are made of synthetic material making them easy to clean up. Check out our cleaning mat article for a few ideas here.
Cleaning Solvents –
Companys that have been around for more than 100 years have been creating some of the best solvents and oils. So, thankfully with time and competition, there are a number of products on the market today to help clean, lubricate, and protect your firearm. If you are looking for top CLP's, oils and solvents we have a great article explaining the benefits of the best solvents here.