If you're an avid hunter or enjoy breaking some clays, you know the need to keep your equipment and gear in top shape.  Seeing as your shotgun is one of the most critical items a sportsman will carry, it is important to keep it clean and protected after every use.  That includes both the external and internal features free from dirt and moisture. Enter the shotgun cleaning kit!
Shotgun cleaning kits come in all shapes and sizes and can be overwhelming if you aren't sure how many accessories you need to get the job done.  In this article, we will look into the various cleaning kits to help ensure the accuracy and longevity of any shotgun you own.  Our team has had years of experience firing off shells and have used many of these products. Like most gun cleaning kits these don't come with a gun cleaning mat, but you can pick one of those up separately for pretty cheap.

Whether you prefer the lighter but mobile 20 gauge or the power of a 12 gauge, this kit has a bore brush designed to fit your barrel.  One of the most important aspects to any cleaning kit in addition to the brush is the cleaning rod.  Many kits come with a great brush but a weak or damaging rod.  This kit takes care of that issue with high quality brass rod to ensure a stable sweep through the barrel.  The rod has a 5 piece assembly allowing you to vary the length depending on your barrel length.  Along with the rod, the slotted tips are also made of the same high quality brass. 
This kit also comes with a weatherproof zippered pouch to keep all of your gear in one clean location.  Although the kit doesn't come with a bottle of solvent itself, Boosteady has included a nice mesh pocket within the case to store whichever solvent you choose to purchase.
Notes from the field:
1 T-Handle
1 Weatherproof Zippered Nylon Tool Case (6.5″ x 3.6″)
31″ Brass Gun Cleaning Rod (5Â Segments)
12 & 20 Gauge Shotgun Mop
12 & 20 Gauge Shotgun Brush
1 Brass Slotted Tip
1 Brass Converter
50 Gun Cleaning Patches
Final Verdict
Boosteady provides a solid and dependable cleaning kit.  The zippered pouch keeps everything easily portable and the mesh pocket allows for you to add some extra content.  The 5 piece rod can be flimsy with the amount of connections, but if you use it correctly and carefully, it will get the job done.


SPIKA – Best 12 Gauge Shotgun Cleaning Kit
The SPIKA compact shotgun cleaning kit has everything you need for a basic gun cleanse but they also threw in a bit extra.  As noted in the header, this kit is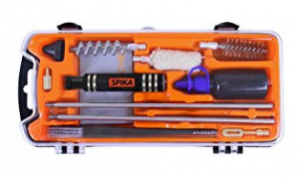 specifically designed for a 12 gauge shotgun which means the bronze brush, tornado brush, and cotton mop will be sized to fit a 12 gauge barrel.  We aren't as thrilled about the 4 piece stainless steel cleaning rod, as the stainless steel can sometimes scratch the inner barrel of your gun.  However, the stainless is a durable material and won't wear down with repeated use as quickly as some brass rods might.
With most standard gun cleaning kits, you have your brushes, cleaning rod, adapter and patches.  SPIKA has taken those basic necessities and added some bonus features to differentiate themselves from the rest.  They have included a universal gun oil bottle (admittedly it is empty, but that allows the user to buy their gun oil in bulk and refill the bottle as needed).  They also threw in a debris brush to clean the outer and breech areas of your shotgun.  This isn't standard in many shotgun cleaning kits, but it does serve a very useful purpose to clear out dirt, dust, and any other particulates that could cause corrosion or damage over time.
Notes from the field:
Aluminium handle – 1

Stainless steel rods – 4

Bronze brush – 1 

Cotton mop – 1 

Tornado brush – 1 

Utility brush – 1

Slotted patch holder – 1

Muzzle guard – 1

Cleaning oil bottle without oil – 1

Box of patches – 1

Adapter – 1
Final Verdict
The SPIKA kit is a bit pricey for what you actually get, but the diversity of the accessories is a nice feature.  Not many kits include the debris/utility brush which is a much have for any gun owner.  One drawback is this kit only includes a brush and mop for a 12 gauge shotgun, so if you are the proud owner of a few different gauge guns, another kit might better fit your needs.


Wydan – Universal Shotgun Cleaning Kit and Case for 12 gauge, 20 gauge, and .410
The name says it all!  The Wydan Universal Shotgun Cleaning Kit has you covered no matter the gauge you prefer to shoot.  If you're like us, you probably have a few different shotguns you like to shoot depending on the occasion.  A 12 gauge for trap or skeet, and maybe a 20 gauge for a long day of hunting.  They even provide the tools to clean a .410 which is not common in most shotgun cleaning kits.  No matter your preference, this kit is a one stop shop for cleaning your shotgun.
Aside from all the standard kit equipment, the Wydan shotgun cleaning kit makes a slight change to one of their accessories – they modified one of the 4 brass cleaning rod sections to include a 360 degree rotational tip.  This will help smoothly guide the rod through for a full swab of the barrel.
Notes from the field:
4 brass rods (includes 360 swivel rod)

3 Bronze brush heads (etched to identify gauge)

3 Mop heads

Solid brass adapter

Adapter for cleaning cloths

50 cleaning patches/swabs

Handle bar

Compact, padded case 
Final Verdict
This is one of our favorites as it has a good balance of price to quality.  The fact that this kit not only comes with 12 and 20 gauge cleaners, but also has the uncommon .410 gauge brush and mop was a big bonus for us.  The 4 piece bronze rod was stable and not a hassle to assemble like some of the other multi-piece rods.  The one drawback with this kit is that the case does not include a pocket to keep your cleaner.  Not a huge issue unless you prefer to keep everything located in one zipped up location.


You can't beat Hoppe's when it comes to quality for the price.  In the gun cleaning industry,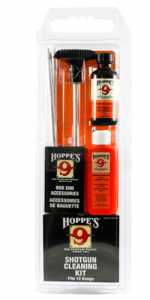 Hoppe's name is well respected and for good reason.  Their reputation comes from years of producing top of the line solvents, lube oil, and bore snakes – everything needed to keep your shotgun clean.
Rather than deal with many unnecessary accessories, this kit has all the basics needed to ensure you keep your gun at its peak performance.  Although it is designed for a 12 gauge shotgun, you can buy additional brush attachments to fit any bore size.  As we said, this one is basic but gets the job done.
Notes from the field:
4 oz. Gun bore cleaning solvent

2.25 oz. Lubricating oil

1 Bore brush (12 gauge)

Aluminum rod and patches
Final Verdict
This kit is about as basic as it gets, but you also aren't spending a lot of money on it either.  The real value of the kit is in Hoppe's cleaning solvent and lubricating oil.  These two items alone are almost worth the value of the entire kit when bought individually.  Not having a case was a negative, but again, you aren't paying a lot for this one and the value is definitely there.


Real Avid – Gun Boss Compact 12 gauge and 20 gauge Shotgun Cleaning Kit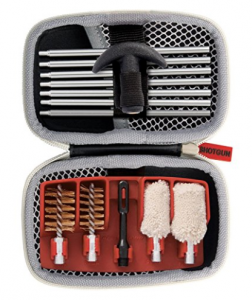 This compact cleaning kit from Real Avid is quite basic and comes with the bare essentials for keeping your shotgun clean.  Brushes and mops for 12 and 20 gauge shotguns, large slotted tip with patches, and a 7 piece rod.  Yes, you read that right, the rod is broken up into 7 pieces.  If you ask us, this is one of the more frustrating rods we have come across.  The more joints a rod has, the weaker it becomes.  When you split a cleaning rod into 7 pieces, you are asking for trouble not to mention the added time of assembling and disassembling the rod after each use.  If you're going to purchase this kit, we would suggest investing in a stronger carbon fiber rod or even consider a flex cable as well.
The case itself is actually quite versatile and comes with many additional features including a mesh pocket to store any additional accessories like brushes, mops, or bottles of cleaner.  Each item that comes standard with the case has its own individual snap in location to keep everything organized and locked down when in transit.
Notes from the field:
2 brush (1x 12 gauge, 1x 20 gauge)
2 mops (1x 12 gauge, 1x 20 gauge)
1 large slotted tip
1 cleaning rod + T-handle
50 shotgun cleaning patches
Zippered case
Final Verdict
This is a nice compact kit from Real Avid which is a company that really stands behind their products.  The brushes and mops are of high quality and do a good job of cleaning the barrel.  We must say it again though, the 7 piece cleaning rod is the weak link in this kit.  Just looking at says "this will take some time."  One thing we really liked about this case is that everything snaps into place.  This is definitely something most would consider secondary, but if you have that kit open and accidentally knock it off of a table or shelf, it sure is nice to have everything stay put.


Cleaning A Shotgun – What to look for in your cleaning supplies
Most gun cleaning kits come with the same core items with a few added features here and there.  For a simple cleaning job, all you really need is a brush to clean out the denser debris within a barrel, a cleaning patch with some solvent, and a way to get push or pull those tools through the barrel.  A cleaning rod tends to be the common item in most kits although some come with a flex cable instead.
When it comes to the cleaning patches, you'll want to make sure they are as lint-free as possible.  Anything lint or particles left inside the barrel could influence your performance when getting out into the field and doing some hunting or sport shooting.  A lint-free patch or mop ensures the barrel is cleaned out and nothing is left behind.
Anatomy of a shotgun cleaning kit
As we mentioned earlier, most kits come with the same essential items.  Below is a little more detail into the basic items found in a shotgun cleaning kit
Bronze Brush
Every shotgun gun cleaning kit you search for is going to come with at least one bronze brush.  Used to remove heavy carbon buildup, the bronze brush should be the first item you send down the barrel. Some companies will change out the bronze with other materials, but we have found that the best brushes are made of high-quality bronze & nothing else!
Gun Cleaning Patches
Simple yet effective, cleaning patches are a must have in any cleaning kit.  Dipped in your favorite cleaning solvent, these patches are then slipped through your slotted patch holder. Cleaning patches come in a variety of different fabrics, with some being higher quality than others so you'll want to pay attention to quality.
Cleaning Swab
Most kits come with a cleaning swab or mop that will screw right onto the end of your cleaning rod. These will be used in the final stages of cleaning after a pass through with the brush and patches.  Some people prefer to use maps as a clean and dry final pass through the barrel while others will dab it will some oil to coat the inside of the barrel.
Slotted Patch Holder
All of the shotgun cleaning kits mentioned in this article include a patch holder instead of a cleaning jag. We found slotted patch holders tend to be the standard while cleaning jags are a sometimes added accessory.  Once you have some solvent or oil on a cleaning patch you simply slide it through the slotted tip.  After inserting the patch you pull it through the barrel to remove any small debris.  You'll want to repeat this step with a dry patch to then remove any solvent or moisture left in the barrel.
Cleaning Rods
Easily one of the most important and yet diverse items of the shotgun gun cleaning kit.  So, whether it is the material or amount of pieces, each kit mentioned above has a different style of cleaning rod.  No matter your choice, the cleaning rod is the core item required to move the brushes, mops, and patches through the barrel.
---