Best Gun Cleaning Rod of 2018 –
No matter what gun cleaning kit you purchase over time, most people tend to dislike a certain tool's quality. Most of the time that tool is the cleaning rod. Of course, all kits include a multi-piece cleaning rod, but it always seems to either bend or even break when using. However, to get a cleaning rod to fit in such a small universal cleaning kit, it can't be one piece. Thanks to gun cleaning kit manufacturers, they realized that this can be an issue and have since started making solid one-piece rods made of high strength carbon fiber materials. Guns Cleaner wanted to showcase the best gun cleaning rod for 2018 in the event you need an upgrade or broke your included cleaning rod.

Tipton has been known for gun cleaning products and more so with their gun vises. Their gun vises have actually made our top 5 gun vise list, which you can check out here. They create high-quality products designed for hunting and target shooting. Tipton decided to reinvent the cleaning rod and make it better instead of creating a multi-piece cleaning rod. They decided to make a one-piece carbon cleaning rod that has an ergonomically designed handle that spins on two sets of ball bearings. The result is a cleaning rod that follows the rifling when both pushing or pulling under pressure. The handle also includes a hammer tap location on the end of it, so you can punch tight fitting patches through your bore.
Since the rod is made of carbon fiber, it makes it chemically resistant and it won't scratch your barrel as a steel rod could. Plus the rod will not embed like a coated rod can. The Tipton cleaning rod is a solid piece of equipment that is perfect for cleaning your firearms. It's the best gun cleaning rod if you plan on cleaning your firearms at home. It would however be a little more difficult to travel with since it is one piece.
Field Notes –
Sizes – 12″, 26″, 36″, 40″, 44″
Rod Diameters and Thread:
17 to 20 Caliber = .158″ 5-40 Thread
22 to 26 Caliber = .208″ 8-32 Thread
27 to 45 Caliber = .250″ 8-32 Thread
10mm, 40 Caliber = .375″ 8-32 Thread
20, 16, 12 Gauge = .375″ 8-32 Thread



In addition to Tipton's Deluxe cleaning rods is the Tipton Bore Guide. This tool is designed to protect the bore, chamber, and action of your firearms. Cleaning rods that are inserted incorrectly or not straight can lead to bore damage. Therefore, if you are planning on getting the Tipton cleaning rod, the bore guide is an inexpensive way to avoid any damage. The guide aligns your cleaning rod with the center of your firearm bore. Included is three tips to fit most bore sizes. The guide makes it really easy for cleaning long rifles and shotguns. It's definitely a luxury to have, but for the money, you will be sure to never damage the rifling on your guns with this tool.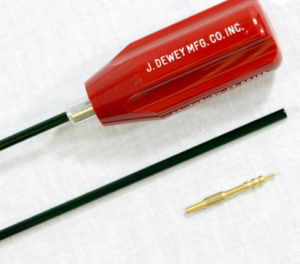 Dewey Manufacturing has been supplying gun cleaning rods and supplies to the industry since 1975. All of their products are made in the USA, only making the highest of quality products for shooters around the world. Dewey has supplied multiple branches of the military, law enforcement, and even Olympic shooting teams. They have been known to only manufacture the best products on the market.
This is exactly why we selected Dewey cleaning rods for our Best Cleaning Rod article. They are a trusted and reputable brand that more firearm owners should learn about. Their one-piece design is made with a nylon coating that is 30″ long. The end has 8×32 threads allowing you to screw on most jags, brushes and bore cleaning tools. The handle reminds us of a hand tool handle similar to a screwdriver handle. Like the Tipton model, Dewey's handle has ball bearings to allow it to swivel with the rifling of any barrel. The rod is a high-quality build and felt really solid when we cleaned our rifles with this model.
Field Notes –
Included Brass Jag and Brush Adapter
30″ One Piece Cleaning Rod
22-26 Caliber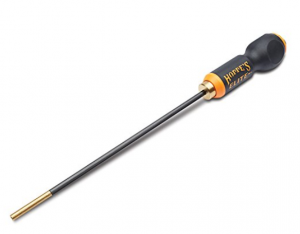 Hoppe's is no newcomer to the gun cleaning game. We've written about numerous gun cleaning kits that they make, including their 9mm cleaning kit and universal gun cleaning kits. However, their Elite 1-piece cleaning rod hasn't been mentioned until now. Hoppe's made their elite cleaning rod to help assist with their multi-piece cleaning rods. The one-piece design provides a much more sturdy cleaning rod, thanks to it being made of carbon fiber.
The Hoppe's rod is fixed with a brass end that has 8×32 threads, giving you the capability for almost every cleaning tool attachment. Attached to the carbon fiber rod is Hoppe's ergonomic handle and their premium double ball bearing handle design that is designed to rotate as you clean your firearm bore.
Field Notes –
One Piece Carbon Fiber Rod
8×32 Threads
8″ or 36″ Length


Gunslick has earned a reputation for providing quality gun care products for shooters. They even drew enough attention to be purchased by Vista Outdoors, the same company that owns Hoppe's and many other outdoor brands. Gunslick manufactures multiple products consisting of caliber specific cleaning kits, solvents, and gun cleaning chemicals, bore guides and even bore cleaning rods.
Gunslick's one-piece carbon fiber rod is perfect for small caliber handguns. This rod, in particular, is what I use on my Smithfield handguns. The rod is 8″ long and being carbon fiber remains stiff and won't bend while cleaning. The handle is similar to Hoppe's cleaning handle. Plus the handle has a similar ball bearing rotating design built in to prevent any barrel damage.
Field Notes –
Sizes – 8″, 36″, 44″
Thread 8×32
Caliber – .17-.45 and handguns as well


Why Use A Bore Guide –
A lot of damage can be done to the bore of your gun if you neglect to insert a cleaning rod center. Especially on any rifled barrels. Therefore, using a bore guide lines the cleaning rod up in the center of the bore. It seems redundant, but every now and again someone will force the cleaning rod in and out of their barrel causing damage either to the barrel or action. Bore guides are pretty inexpensive when compared to replacing a barrel.
Conclusion –
Purchasing a solid one-piece cleaning rod made of coated or carbon fiber is going to help prevent causing bore damage. They are designed to be used more for deep cleaning of more expensive barrels where accuracy is important when cleaning. Thankfully, the rods on this list are fairly inexpensive and you may find out like we did, that having a solid one-piece design makes it so much easy to clean your guns. They don't bend or unscrew like the conventional multi-piece cleaning rods. However, since they don't travel well, make sure you still hang on to the rods that you buy from the universal cleaning kits.
If we had to select our favorite cleaning rod, we would go with the Tipton because of the cost and quality. Plus, you can't find a company that makes a bore guide that fits their cleaning rods so well.
Cleaning Tips –
We strive to make gun cleaning easier and more fun. Therefore we have taken our time and reviewed the top products that can make your gun cleaning experience more enjoyable and also more helpful. Check out the products we use to make our gun cleaning easier.
Gun Cleaning Mat –
Creating a clean work surface is important for any type of gun cleaning. Therefore researching and finding the best gun cleaning mat will make sure you stay organized and prevent damaging your high-value firearms. Check out our top-rated gun cleaning mats here.
Gun Cleaning Vise –
If you haven't heard or used a gun vise before, you need to check out the best gun cleaning vises here. A gun vise holds your gun secured while you perform routine maintenance or even conduct bore cleaning. It will easily make your life easier when using a one-piece cleaning rod as well because it relieves you from having to hold your firearm and the cleaning rod at the same time.
Gun Solvents and Cleaners –
A cleaning rod with a brush or bore swab will only clean as well as the solvents you use. Therefore, buying high-quality cleaning solvents will cut your cleaning time in half. Let the solvents do the work of breaking down dirt, heavy metals, and chemicals. If you need advice on top-rated solvents check out our latest article here.