When it comes to finding gun cleaning tools there can be a lot of cheap knock-off models and makes that tend to damage or harm your firearms. Additionally, most universal gun kits always seem to lack the tools needed to fully disassemble your rifle, handgun, or shotgun. Therefore, we decided to try out numerous gun cleaning tools for cleaning and repairing our firearms. We found the following ten tools to be the best in their class, making our lives a lot easier when it came to cleaning our guns.

Top 10 Gun Cleaning Tools List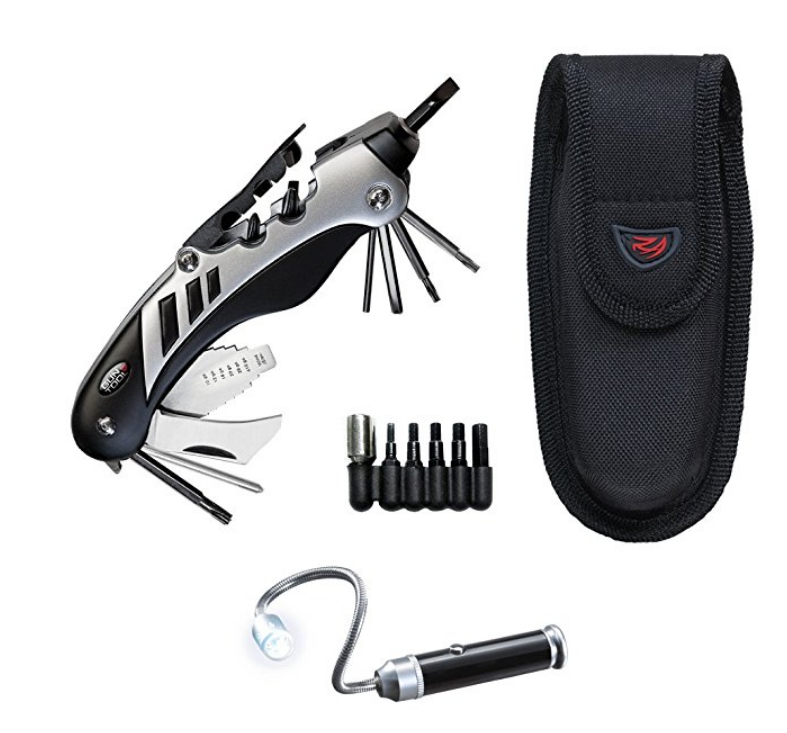 Multi-Tool For Gun Cleaning
Numerous Attachments
Durable & Rugged
Included Light & Carrying Case
If you're looking for gun cleaning tools that can function across numerous makes and models. The Real Avid Gun Tool Plus is going to give you the versatility you are looking for. Ranked as our #1 for the best gun cleaning tools, it truly has it all. It's perfect if you want a tool that you can carry with you to the range or even while on a big game hunt. The Real Avid Tool Plus will offer you the functions to fix and clean your gun where ever you are. It functions as a multi-tool that can prevail in the field, at the range, or on your workbench.
Functions –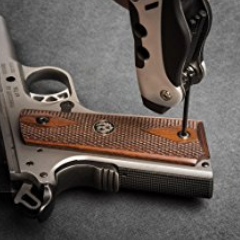 When problems strike, you need to be prepared which is exactly why the Tool was created from Real Avid. You'll find that this tool has numerous uses that can help clean or fix your rifle, shotgun, or handgun.
Included Tools
Pin Punch -Perfect for removing any push pins on your firearms as you disassemble them to clean or do maintenance.
Universal Choke Wrench – If you need to remove your choke in the field or at home this multi-tool can be used for 10ga; 12ga; 16ga; 20ga; 28ga; and .410ga shotguns.
Stainless Steel Claw Blade – In the event you need to scrap or remove debris, the knife has a perfect sized claw blade.
Scope Windage & Elevation Blade – Adjusting your rifle scope is a breeze with the attached blade.
Torx Drives – T20, T15, & T20 Torx drives for removing and disassembling your firearms during cleaning.
Allen Hex Drives – 3/32″ & 5/32″ Allen heads help in the disassembly process.
Magnetic 3/16′ Drive – This drive gives way for the included attachments to secure to, and help remove bolts, screws, and nuts without dropping them.
Screwdrivers – 1/8″ Flat 3/16″ Flat & #1/#2 Phillips screwdriver heads help to remove any parts for take down and cleaning.
5 Extra Hex Drives – In the event you lose one or have an odd size, the extra hex drives come in really handy.
Magnetized 1/4″ Hex Driver Adapter – Perfect for not losing any loose screws as you remove them.
Nylon Sheath – Bonus carrying case for the tool when in the field or at the range.
Magnetic Bore Light – If you need to check the cleanliness of your bore the light makes this job very easy.
As you can see this 26-in-1 tool has numerous attachments and tools to help take down your firearms and help with any cleaning process. All you need is a universal cleaning kit to pair with this multi-tool.
When To Use This Gun Cleaning Tool –
When you have a Tool Kit in your pocket like this Real Avid Tool Plus, you'll never assume a job is too big or too challenging. However, to help give you ideas on where this tool can be used, we've shared some situations we put this tool through. It held up with a 5-star rating and the durability and quality of this tool were quite surprising for the low-cost price tag.
First and foremost this tool can be used to remove pins for simple cleaning. We were able to remove our shotgun trigger frame pins with ease and properly clean the shotgun frames. With the chance you have a handgun, you can remove the grip plate to clean behind the grip and frame. In the event you are cleaning your rifle, the tool can help to remove the scope and clean underneath the mounts of the scope. While it also has a scope blade to reinstall a scope and zero it back in.
One thing I also seem to misplace is a shotgun choke tube tool. With this tool, I keep it right in my shotgun cleaning kit and have the ability to remove my choke and properly clean and oil so that it won't seize up. Lastly, this tool can be used for just about anything you throw at it. I even had to use the knife a while back when I went sporting clay shooting to open up a box of shells.
# 1 Real Avid The Gun Tools-Plus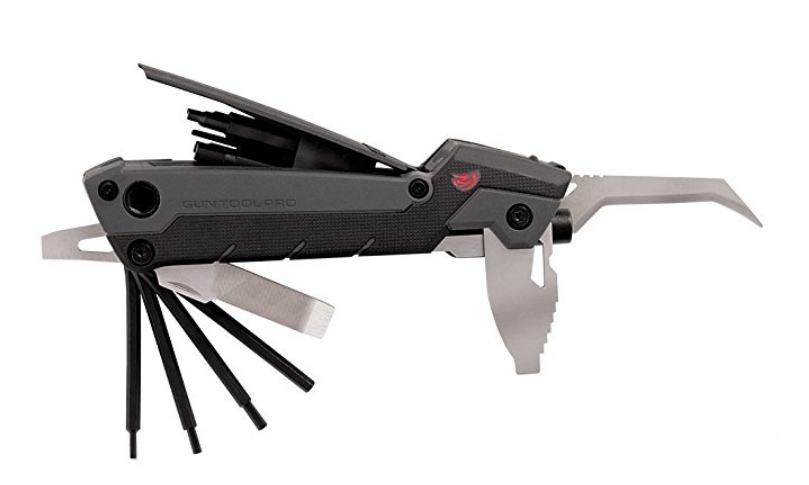 Top Quality Gun Cleaning Tools
Sleek Ergonomic Design
Everything For Basic Firearm Maintenance
Compact Tools
When we decided the top ten gun cleaning tools, The Gun Tool Pro and Plus were neck and neck. Almost hard to place this one in second, but for what it lacks it makes up with its versatility and top design style. The 30-in-1 multi-tool makes it easy to maintain and clean any shotgun, rifle, or handgun. It's hard to find any other tool on the market that can fit 30 tools into a foldable kit that can easily fit into your jacket or pants pocket.  Once all of the tools are folded up, the compact design easily fits into your palm. As a result, when you go to use a tool, the Pro handle is perfect for when you need to torque or tighten a screw or bolt.
One of the best features that we appreciated was the built-in head and attachment holder that's fixed inside the Pro handle. Such a great design and makes sure you won't lose any parts or pieces. This also made it particularly easy to stay organized when we brought this out in the field and range.
Functions –
When it comes to the Gun Pro Tool the functions and bits are endless for helping you clean or repair your firearm.
¼" Bit Driver
¼" Bit Wrench – included for extra torque
Pin Punch
T10 Torx / T15 Torx / T20 Torx
#00 Phillips / #1 Phillips / #2 Phillips
3/32" Flat / 3/16" Flat  ¼" Flat / 3/8" Flat Screwdriver
5/32" Allen / 9/64" Allen / 1/8" Allen / 3/32" Allen
When To Use This Gun Cleaning Tool –
If you need a tool for cleaning your firearms, this tool offers a universal shotgun choke wrench that makes it easy to clean the threads of your barrel and choke. It also has a pin punch to remove any pins to help clean out any debris and grit that builds up behind trigger frames. Along with these cleaning tools comes plenty of tools to help remove parts of your firearms to gain easy access to hard to reach areas. For example, we found the Torx and Allen wrenches perfect for removing our frame guard. This way we could do a deep clean behind it before storage.
# 2 Gun Tool Pro 

Non-Damaging
Made in USA
Doesn't Break Down Like Plastic
The Brass Pro-Shot has to be one of the simplest gun cleaning tools on this list, however, once you have it. It's quite hard to live without when cleaning your firearms. For just a few bucks this tool has been able to help me clean the hard to reach spots of my rifles and handguns like no other tool. One end of the Pro-Shot is pointed to function as a pick. Whereas the back end is more of a flat shape perfect for scraping carbon and dirt. Since its brass, you don't have to worry about it scratching your bore or firearm parts, as the brass is softer than steel.
When To Use This Gun Cleaning Tool –
The options are endless when using the Pro-Shot. We used it for cleaning any tight spot that our brushes and gun cleaning kit couldn't reach. I even used it to help remove a jammed round while out at the range. It's a pretty handy tool to have in your gun cleaning box or bag.
#3 Pro-Shot Brass Gun Pick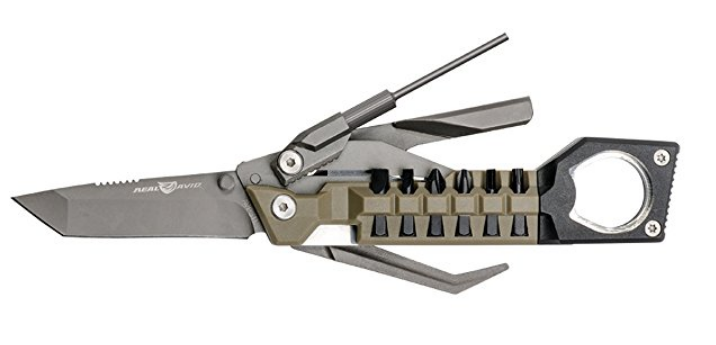 Range Or Bench Tool
Tactical & Compact
Best Hand Gun Cleaning Tool
Pistol gun cleaning tools are harder to come by and most gun cleaning manufacturers don't make a specific tool except for Real Avid. The pistol 19-in-1 tool is built specifically for 1911's, semi-autos, and revolvers. No other model on the market has the specific design and tools that allow you to clean, repair, and maintain your pistols like this Real Avid Tool. It does function as a multi-tool even though its designed for pistols. A lot of the tools are universal and can be used on other makes and models.
Functions –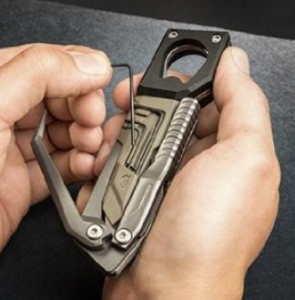 Picking up the Pistol Tool for the first time you'll be surprised how compact and small it is considering all the functions and tools included. Each tool has it's specific location built into the handle. It either fits in a designated sleeve or folds into the handle. From small Allen wrenches to stainless steel pick and scraper the Pistol Tool has everything needed to clean and maintain your handguns. If the tools aren't enough the tool even has a 1911 bushing remover incorporated into the handle. Real Avid has really been able to pack a lot into this small tool.
3″ 420 Stainless Steel Tanto Knife

6 Hex Bits with Ball Detents

Fine-Tooth Metal File

Tap Hammer Surface

8-32 Threaded Receiver

1911 Government & Officer Bushing Wrench

4 Bondhus Protanium Hex Keys

Non-Hardened Stainless Steel Pick/Scraper

2.5″ Long Bit Driver

3/32″ Pin Punch with 8-32 Threads
When To Use This Gun Cleaning Tool –
You may be wondering how and when you could use this tool. We took it through a few scenarios and wanted to share the success we had with it. First, if you need to remove any bushings from a 1911, this is the perfect tool that makes it quite easy and quick. We even were able to use the handle to help remove the pins on our Glock 17. The Pistol Tool even had a scraper to help remove any carbon deposits that built up inside the frame of our pistols.
The Tool is really handy and has one of the best designs when it comes to how the tools are organized and secured on the device. For such a low cost this tool is perfect if you own any style of handgun.
#4 Real Avid Pistol Tool

If you own any model of Glock the Disassembly Tool is a must have to add to your gun cleaning box. It may look like just your average punch, however, the Glock tool is specifically designed for Glock models. It can be used to remove the firing pin on the slide of any Glock. Simply just insert the tool, and you can remove the back plate to access your Glock's firing pin for a thorough cleaning. The tool can even be used to remove the bottom plates of Glock magazines so you can clean the inside of the magazines out. Many Glock owners neglect to clean out their magazines, however, they can build up with plenty of carbon even after just one round at the range.
The Glock tool is a must have and will be a lifesaver when it comes to disassembly and cleaning your handguns. For just a few dollars you can pick one of these up and it will make your disassembly time quicker and will help prevent you breaking or scratching your firearms when using the incorrect tools.
#5 Glock Takedown Tool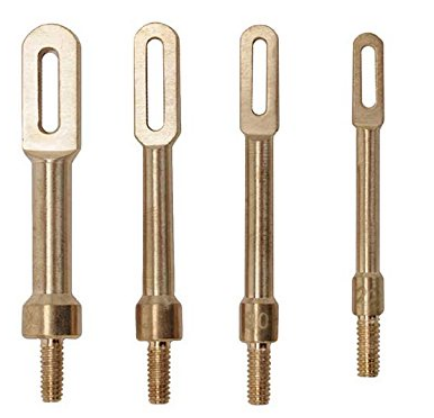 Solid Brass
Soft & Won't Damage Steel
4 Different Sizes
If you've ever received or bought a cheap universal gun cleaning kit you'll notice that the slotted tips and Jags are usually made of plastic. It doesn't take long then to figure out that the plastic used is brittle and always seem to wear and break under pressure. As a result, Tipton decided to manufacture a set of four solid brass slotted jags that make cleaning your rifle, shotgun, or barrel much easier. The brass doesn't flex or crack like plastic does. Therefore, allowing you to use pressure when cleaning with patches. If you need more info on how to clean read more here.
Functions –
One of the main steps in cleaning out your barrel of any firearm is to swab the inside with patches and oil it properly. The brass slotted tips make this process easy as they attach to Tipton handles or any cleaning rod with an 8-32 thread. No need to worry about having to buy one for every size barrel either. The Tipton set of 4 fits the following sizes.
22-29 cal
.30-35 cal
35-44 cal
45 cal
The Jags are one of the best gun cleaning tools to own and you'll be happy to know that they won't scratch or damage your barrel as brass is a much softer metal than steel. This again is one of the cheapest toolsets that can help improve any gun cleaning kit. Don't waste your time trying to make the plastic tips work from your kit. Grab a set of Tipton Brass tips and you'll be happy to find that the bore of your firearms are leaps and bounds cleaner than if you used a plastic tip.
#6 Tipton Brass Jags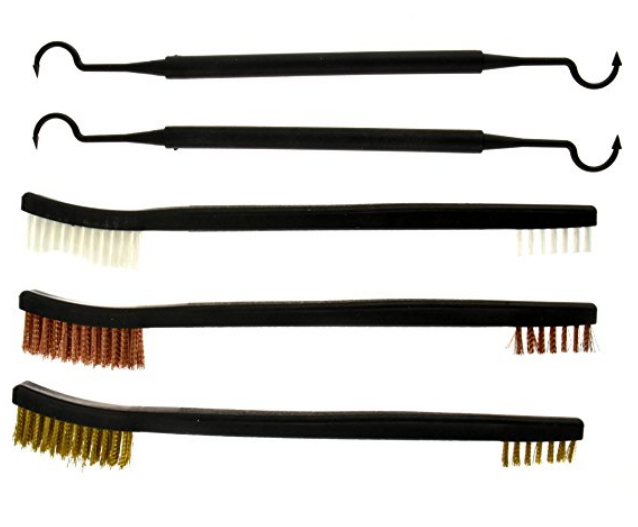 Inexpensive Tools
Great Replacement Set of Brushes
Versatile
Whenever I bought a universal gun cleaning kit I always seemed to never have enough brushes or picks included in the kit. Or for some reason the one they included wore out too quickly and couldn't find a replacement set. However, now thanks to SE they have a pack of three double-sided brushes and two double-sided picks that help solve that issue. You'll notice that the picks are nylon and less attractive to brass, however, this does keep the cost of this five pack down significantly. Plus they are double-sided so as one side wears out you can simply use the other side.
The brushes have nylon handles, but they each have different bristles. you'll find one set has a large and small brush end with brass fixed bristles. The next one has the same bristles but made of copper. The last brush is made of nylon brushes similar to a toothbrush. Therefore, collectively they can be used to scrub and remove a lot of carbon and dirt build up inside your trigger frames, chambers and other tight spots that always seem to accumulate dirt.
#7 SE Gun Cleaning Kit

Perfect Keychain Tool
Fits In Your Pocket
Tool For All Models
The Real Avid Micro Tool is one of the smallest tools on this list, at about the size of a keychain. You'll find this tool one of the smallest, however, it does offer plenty of tools and attachments to help clean and work on your firearms. With five different micro tools, you'll be able to find one for your .223/5.56 MSR, 1911, 7.62mm, Ruger 10/22, or Shotgun. We've found that attaching this tool to our gun carrying case was a great way to have a tool with you at all times, whether in the field or at the range.
Functions –
From tactical weapons to shotguns the microtool allows you to perform many simple tasks such as scraping your fire pins, bolt tail, and bolt face. You'll also find that the tool has multi-wrench sizes and a front sight adjuster to help keep your firearms in top notch shape. The following options are attached to the Micro Tool.
Scrapers
Wrenches 3/8″, 5/16″, 1/4″, 3/16″, 1/8″
Nut Driver
Flat Head Screwdriver
Carabiner
Bottle Opener
Constructed of stainless steel the Micro Tool won't rust or corrode over time. For more info on the models other than .223/5.56 MSR follow the link to Amazon.
#8 Real Avid Micro Tool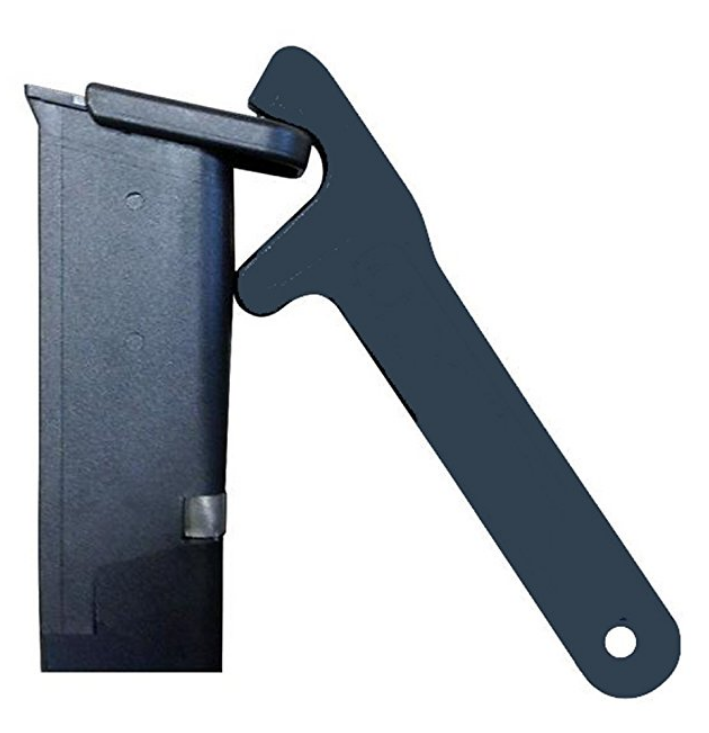 Easiest Way To Remove Glock Magazine Plate
Compatible With All Generation Glocks
American Company
If you've ever tried to remove the base plate of a magazine on any Glock mag. They can be quite difficult and at times if done incorrectly you can damage the magazine. Therefore, with the Fixxxer magazine tool you can simply leverage the base plate off with ease. This tool should be in every gun cleaning kit or range bag. It's the fastest and easiest way to clean the inside of your magazines.
No more scraping or busting knuckles trying to remove and replace magazine plates. The Fixxxer Tool makes it simple and effortless no matter if you have a G43, G17 or any glock model magazine for that matter. The milled aluminum tool is durable and won't break or bend under pressure. It provides you with the necessary leverage to take any base plate cover off.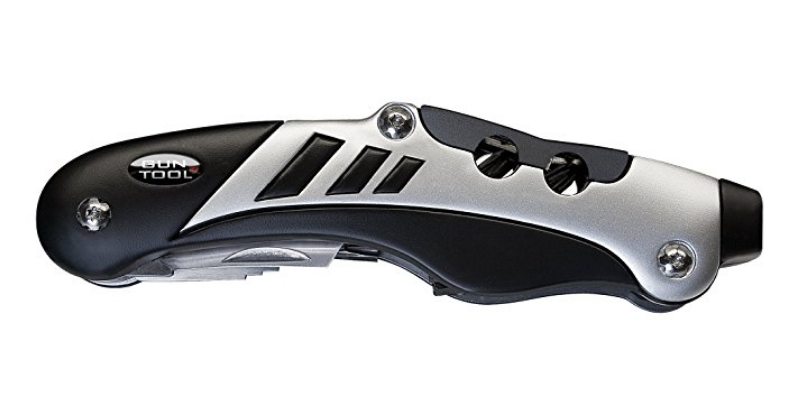 18-in-1 Multi Tool
Compact
Stainless Steel
I know when I go to clean my shotguns or rifles I want to have a tool that is practical and rust free. The Real Avid Gun Tool is made of 420 stainless steel and soft coated on either side for a comfort grip. The Real Avid tool is one that I put in my gun cleaning box and know that it will work with ease every time. Plus, most of the time it's the only tool I need to take my gun down and clean it. Making it really easy when it comes to cleaning my firearms after using them.
Function –
The Gun Tool was designed to be taken into the field or used at home on your workbench. Real Avid designed it with versatility in mind. With 18 tools that are most commonly used across every make and model you'll find plenty of uses for the following functions.
Magnetic 3/16″ Driver

Screwdrivers: 1/8″ Flat; 3/16″ Flat; Phillips 1 & 2

Magnetic Bit Storage Block With Access Door

420 Stainless Steel Frame With Rubber Grip- Coated Polymer Jackets

420 Stainless Steel Claw-Point Blade

Pin Punch

Universal Choke Wrench: 10 Ga; 12 Ga; 16 Ga; 20 Ga; 28 Ga; .410

Scope Windage/Elevation Blade

Torx Drive: T20; T15; T10

Allen Hex Drive: 3/32″; 5/32″
When To Use This Gun Cleaning Tool –
At Guns Cleaner we didn't expect this little tool to do as much as it could. With such a small size it's hard to believe it has the ability to mount scopes and help sight them in. It even had the capabilities to remove my shotgun chokes when I needed to clean the threads. We found it had plenty of drives to remove Allen and Hex screws when we took apart out handguns and rifles for cleaning.
This tool is an easy one to keep in your glove box or rifle case. As we found so many uses for it while in the field and at the range. Thankfully Real Avid has really thought about The Gun Tool design and made it for gun enthusiasts.