One of the leading tools for any type of gun cleaning or gun maintenance is owning a gun vise. Being able to have your gun securely mounted to a table or bench allows you to clean your firearms with both hands and ensure that you won't drop or damage your gun. However, one of the hardest decisions is to decide which gun vise to use, considering the numerous models available. Therefore, we have broken down the most popular Tipton Best Gun Vise to help review and show you the capabilities of one of the leading gun vise models.

Tipton Best Gun Vise Overview –
| Details | Specs |
| --- | --- |
| Firearm Uses | Shotgun, Rifles & Pistols |
| Frame Material | Plastic |
| Size | 32" L x 8" W |
| Base | Rubber Feet |
| Instructions | Click Here |
| Warranty | 1 Year |
| Price | Click Here |
The Tipton Best Gun Vise is one of the most versatile and universal firearm holding systems available. With three total supports to hold your firearm, each of the three supports are adjustable along the base of the gun vise via T-track. They all over vertical adjustments as well to ensure that you get a custom fit to any size shoulder mounted firearms. Therefore, with a gun vise that has so much adjustability, it can accommodate nearly every make and model shotgun or rifle.
Tipton Manufacture –
Tipton is a leading gun cleaning brand that is one of many under Battenfeld Technologies Inc. Battenfield Technologies is one of the leading manufactures of shooting, reloading, gun cleaning, and gunsmithing tools. Battenfield is located in Colombia, Missouri and with numerous gun industry brands they help in innovate and design some of the best products on the market.
Tipton Best Gun Vise Materials –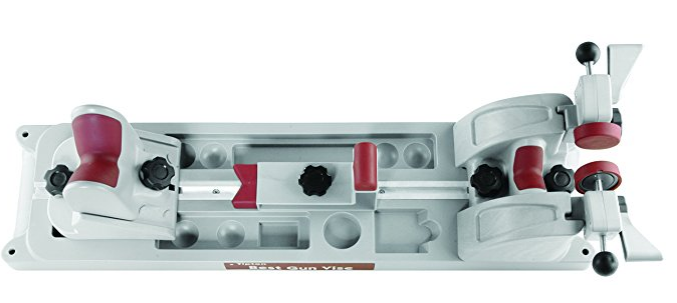 The Tipton Best Gun Vise is comprised of a few different materials. However, the frame or body of the vise is molded plastic. This offers it a lightweight construction, yet it's still durable and very easy to clean in the event of any gun cleaning solvent running off on it. The plastic design also helps to prevent no rust ever building up on the gun vise. Many people assume that the plastic is inexpensive and a cheap material. However, that isn't the case with this vise. Instead, the plastic used is rugged offering plenty of strength while cleaning or doing firearm repairs.
Additional Materials –
Aside from the overall construction, there are a few other materials used that make up the Tipton Best Gun Vise. First off all of the pads that your rifle or shotgun would rest on are made of a synthetic rubber that won't scratch or damage your barrel, stock, or firearm. Instead, the rubber is designed to grip your gun preventing it from slipping when cleaning or repairing. Next, all of the knobs designed to adjust the supports are made of plastic twist knobs with steel threads preventing any wear and tear that might occur over extended use.
Additionally, the T-track that allows for the supports to slide on is made of aluminum. Therefore, it won't rust or wear like steel or plastic would. Instead, the screws have a solid piece of aluminum to anchor too. Lastly, there are knobs underneath the vise that are adjustable and made of soft rubber to grip to your table or bench surface. Preventing any movement or sliding when using the Tipton Best Gun Vise.
Clamping Device –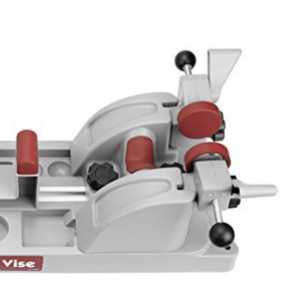 When it comes to the clamping device, Tipton Best Gun Vise has two cams on either side of the stock of your rifle or shotgun. Initially, you get your firearms positioned into the gun vise and then proceed to tighten the two black knobs on the outside of the stock clamp. This gets the stock of your firearm into position to be locked down. No need to overtighten these as the next step adjusts the grip strength. Simply push down on the levers located on either side of the stock and the cam locks your stock into the vise. You'll see that the clamps have two circular rubber ends that grip the buttstock locking it into position.
The cam levers really allow you to customize the tension and grip needed. Therefore, if you are working with a high-end wood stock and want to prevent any marring, you can use light tension and the cam levers will lock the stock in place.
Cleaning With The Tipton Best Gun Vise –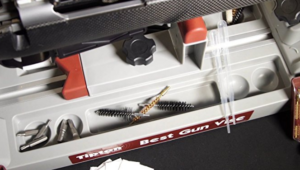 A gun vise has multiple uses, most people assume they can only be used for maintenance and repairs. However, they can be used for cleaning as well. A gun vise provides you with the ability to use both hands and never have to hold your firearms. Which can be dangerous if you accidentally drop it. Therefore, the Tipton Best Gun Vise was designed for both purposes. However, when cleaning there are a few tips to ensure that you don't harm your firearms.
When cleaning any long guns be sure to adjust the front support so that it's lower than the rear stock clamp. This will help to prevent solvents and oils from running back into the breech of your gun. Instead, gravity will allow for the solvents to run out the end of the barrel. This will also help when you are running any gun cleaning rods or bore snake down the bore of the gun as well.
To make sure that the barrel is lower. Simply adjust the front support into the lowest position and retighten the two knobs. Then place the stock of your gun into the rear clamps in a position that allows for the gun to tip downwards. If for some reason the center grip support isn't making contact with your firearm. It has two different height selections. Simply remove the knob and flip the support over to the longer position and insert the black knob.
How To Use The Tipton Best Gun Vise For Pistols –
As most gun vises only allow for the use of a vise on shoulder mounted firearms. The Tipton Gun Vise can actually be used for pistols as well. If you turn the rear clamp support in a 180° fashion while still using the vertical clamps they can hold the grip of the pistol. Next, if you slide the grip support close to the rear clamp base, you can give support to your pistol's barrel. As a result, you get a gun vise that can support a variety of pistols and revolvers for cleaning or repairs. Very few fun vises on the market can accommodate pistols, which is why this is one of the most popular.
Using The Tipton Best Gun Vise For AR 15 Rifles –
With the overall popularity of the AR style sport shooting rifles. It didn't take long for manufactures of gunsmithing and gun cleaning products to start producing AR specific tools and cleaning kits. However, it took a while for someone to create a gun vise that could not only accommodate numerous shotguns and rifles but the AR platform as well. Because the AR platform is a bit unique and that it opens up the upper receiver seems to never want to stay in a position that makes it easy to clean. Therefore, you tend to lay the rifle on its side or try and hold it between your legs. None of these ways every seem to work.
Instead, Tipton Best Gun Vise was designed with the middle grip support to be adjustable to slide underneath the AR trigger frame while the takedown pin is removed. This way you have complete access to run a gun cleaning rod through the barrel. This grip support even offers a great way to clean side-by-side or over-under shotguns.
Tipton Best Gun Vise Installation –
STEP 1:
It's quite easy to assemble the Tipton Gun Vise once you receive it. Simply mount the four rubber feet underneath the vise. This helps prevent any sliding or movement when using the vise. With a medium Phillips screwdriver, these can be installed.
STEP 2:
Next install the rubber pads to the forend, grip, and rear clamp supports. The pads are pressed in firmly and are they secure with tabs that fit into the contour of the plastic supports.
STEP 3:
Next, attach the forend and forend upper support to the T-track with the included T-bolts. Ensure to gently tighten the knobs to keep them in place, however, these are designed to slide and adjust so refrain from using any locktite.
STEP 4:
Install the assembled forend support with included knobs and slide into the T-track system. At this point, you should have your forend and grip support installed.
STEP 5:
Attach the clamp block to the rear clamps. There is an RR for right side and LR for the left side. The clamps fit into the grooves molded into the rear clamp base.
STEP 6:
Slide the assembled rear clamp base into the t-track system. There should be two t-bolts provided to help secure the clamp to the gun vise. Once finished you will have the forend, grip, and rear clamp supports fixed to the frame of the gun vise. Ready to use.
What Makes For A Great Gun Vise –
In order to find the best gun vise for your firearms. It's best to consider what you'd be using a vise for; cleaning, sighting, or maintenance. Keeping those in mind most gun vises can be used for cleaning and maintenance, however, you will need a heavy duty vise for sighting in your rifle if you choose to use it for this. Nonetheless, look for a gun vise that is going to provide you with the versatility to hold rifles, shotguns, and if possible handguns. Therefore, you don't have to own multiple gun vises for multiple gun models and makes. Gun vises are one of the best purchases you'll make if you plan on cleaning or doing any repairs or breakdowns for your firearms. If you pair with a gun cleaning mat, a universal gun cleaning kit, and some CLP, you'll have everything you need to maintain quality firearms.
Gun Vise Construction –
There are a few different selections to pick from when you are selecting a gun vise. The most common are plastic and metal. There are a few advantages to both. However, both offer the necessary framework to support a firearm.
Plastic –
Plastic is the most affordable when it comes to material. Therefore, when you go to purchase a gun vise, you'll notice a large price jump if you choose to go with metal. Whereas, plastic allows for manufacturers to remain relatively inexpensive. Another great advantage to plastic is that they are rust proof. They will never rust or become oxidized if left in storage like metal does. However, most people assume that plastic is lightweight and flimsy. Tipton Gun Vises uses a thick-walled molded plastic that still offers durability and strength similar to metal gun vises. Therefore, the last advantage is that they are easy to transport and move since they are lightweight.
Metal –
There are a few advantages to using metal such as the heavier material does provide a more sturdy cleaning base to work on. Therefore, your gun vise won't move around as you are working on a firearm. However, the added weight and frame material does add to cost. Therefore, they tend to be more expensive than other plastic gun vise models. One added benefit if you are planning on using a metal gun vise to sight in your rifle. Is that the weight will help to reduce the recoil of a rifle blast. If you are interested in reading more about metal gun vises click here.
Gun Vise Clamping Devices –
This probably is a no-brainer, but that doesn't mean it isn't important. The best gun vise is going to have a rock-solid clamping mechanism so that you're gun never risks falling off your workstation. You worked hard to earn the money to purchase your firearm, and the last thing you need is for it to fall off the table when you are trying to take care of it.
The best clamps will obviously be made out of metal, but you can still get by with plastic ones. In the lower price ranges, you're probably going to be looking at plastic clamps. This is more than okay, but you want to make sure you're buying a gun vise with a clamp made out of a quality polymer. The term "plastic" really doesn't do a good job of describing how strong something is since there is such a huge range of materials with different mechanical properties. Just like copper & steel are both considered metals but wildly different, so are different types of plastics.
Adjustability –
Every gun enthusiast knows that guns come in all different shapes & sizes. For that exact reason, the best gun vise is going to have some major adjustability to get you a secure hold on your gun. Clamping in the wrong location while cleaning your gun can really get in the way, or worse yet provide an insecure clamping location. Having your gun vise on slides is really going to help you get into the right spots. This makes your cleaning session that much easier. Therefore, be sure to look for a gun vise that offers plenty of adjustments when it comes to clamping and supporting the frame of your firearms and barrel.
Look For A Strong Frame  –
Having strong clamps are great, but if the frame is weak they aren't going to do you any good. The good news is that a gun vise & maintenance center is never intended to be a shooting platform, but you still want to be working off a solid base. Many of the gun cleaning vises we reviewed are made largely of plastic. Like we discussed above, this is okay as long as they're using quality materials.
The best gun vise is going to be built on a metal platform. Even if the components on top of it are plastic, starting with a strong foundation is key. Gun vises like the Tipton Best Gun Vise, Tipton Ultra Gun Vise, & the Lyman Gun Vise are all built on a metal rail system. This provides a strong base to work off of and ensures that nothing down low is going to fail while your attention is elsewhere. Try and steer away from gun vises that only are constructed of plastic. As they won't provide the durability or quality that will last for continued use. Instead, look for plastic gun vises that incorporate metal rails and features similar to the Tipton Best Gun Vise.